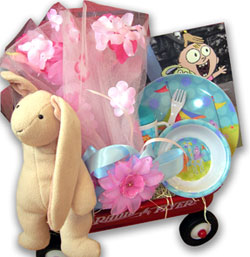 Just Hatched
The Bunny Gift Wagon from Just Hatched.
AND NO PEEPS FOR YOU: We still wish we could still participate in our local Easter Egg Hunt, or at least be in the running for a hidden basket full of treats left by our favorite bunny. Instead, we're left buying them. We like the plastic basket alternative from Just Hatched, a miniature signature Radio Flyer Wagon, packed with deluxe gifts (and not a sweet in sight) for hardworking egg hunters on Easter morning. Our personal favorite is the Bunny Wagon, with a plush bunny, flower embellished tutu, holiday theme dish set and bib and a copy of Knuffle Bunny by Mo Willems.
BUY IT: Visit Just Hatched on State Street in Guilford or order your own Radio Flyer gift set online.