Blue Hills Avenue in Bloomfield Reopens, Search for Driver Continues
Police said a tractor-trailer driver hit one pole, then struck several others.
Monday, Mar 3, 2014 | Updated 1:04 PM EDT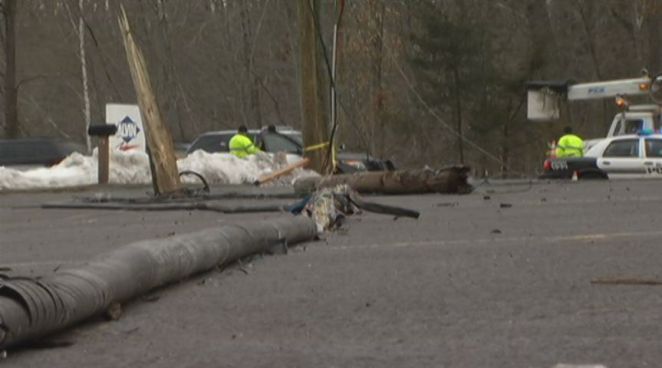 A tractor trailer truck crashed into some utility poles and ripped down wires on Blue Hills Ave in Bloomfield. After the damage was done the, the truck took off and left the scene leaving police searching for the driver.
Police are searching for the driver of a tractor-trailer that damaged utility poles in Bloomfield on Sunday evening.
Police believe the driver lost control of the truck Blue Hills Avenue in a crash around 6 p.m., hit a pole, kept driving and hit several others.
No serious injuries are reported, but this led to another crash that brought wires down on a car.
A spokesman from Connecticut Light and Power said six to seven poles were damaged and power was out for around 134 homes and businesses were affected.
Occupants in one of the vehicles that struck the pole in the roadway complained of non-life threatening head injuries, police said.
Power has since been restored.
Due to the utility pole damage, Blue Hills Ave between Old Windsor Road and West Dudley Town Road was shut down, but has reopened.
Police are asking for the public's help to identifying the evading driver.
The truck has a white cab and white tractor trailer.
Anyone with information is urged to contact the Bloomfield Police Department at 860-242-5501.