Thursday, Oct 18, 2012 | Updated 11:05 AM EDT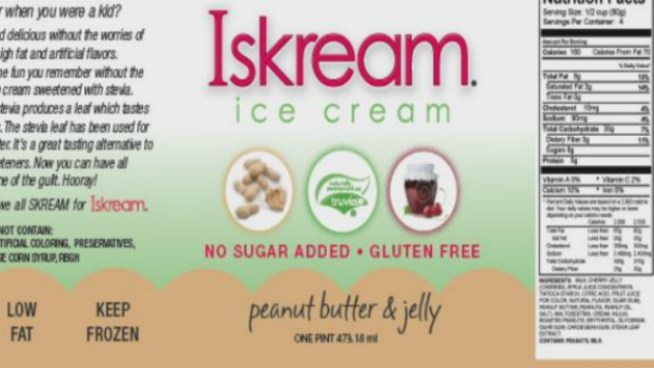 A Milford-based ice cream company is recalling a peanut butter and jelly product because it could be contaminated with salmonella.
Buck's Ice Cream says the recall involves Iskream Inc. brand Peanut Butter and Jelly No Sugar Added Ice Cream.
The product was distributed to retailers between March 1, 2012 and October 17, 2012 and the UPC code is 858452020554. Pints could also be packaged in white corrugated cases containing 8 pints per case.
The company said they made the decision because of an expanded recall of nut products by the Sunland Inc. organic peanut processing plant.
The Sunland plant in New Mexico was closed after salmonella was found in Trader Joe's Creamy Salted Valencia Peanut Butter. Thirty-five illnesses in 19 states have been linked to the product.
Salmonella can cause sometimes fatal infections in children, elderly people and those with weakened immune systems.
Healthy people often experience fever, diarrhea, vomiting and abdominal pain.
No illnesses linked to the Connecticut ice cream have been reported.
If you bought the ice cream, return it to the store where you purchased for a full refund, or contact Iskream directly for refund information at www.iskream.com.