Wednesday, Apr 25, 2012 | Updated 12:48 PM EDT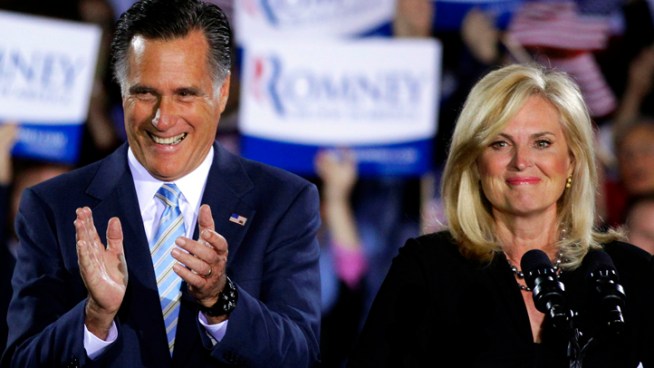 AP
Republican presidential candidate and former Massachusetts Gov. Mitt Romney and wife, Ann, take the stage at an election night rally in Manchester, N.H., Tuesday, April 24, 2012. (AP Photo/Jae C. Hong)
There were no big surprises in Tuesday's Republican Presidential Preference Primary in Connecticut.
Mitt Romney overwhelmingly won Tuesday's contest with 67.5 percent of the vote. He had polled way ahead of the other candidates in Connecticut, even before his main rival, Rick Santorum, suspended his campaign weeks ago.
Santorum remained on the ballot in Connecticut, along with Newt Gingrich and Ron Paul.
Paul finished second with 13.5 perecent, followed by Gingrich with 10.3 percent and Santorum with 6.8 percent.
Romney swept the night, also winning primaries in New York, Delaware, Pennsylvania and Rhode Island, according to NBC News projections.
Voter turnout was low at most polling places across the state. Only 14 percent of eligible Republicans voted in Tuesday's primary, according to Secretary of the State Denise Merrill's website.
There was no Democratic primary since the only Democratic candidate who qualified for the Presidential Preference Primary ballot is President Barack Obama.
State law specifies that at least two candidates are needed in order to hold a primary.
It was a historic day in Connecticut, because it was the first time that 17 year-olds could cast ballots in a Presidential Preference Primary in Connecticut, provided they will be 18 on or before the general election November 6.