Old Saybrook Urges Evacuations Now
Police strongly recommend residents on several streets leave their homes ahead of Sandy.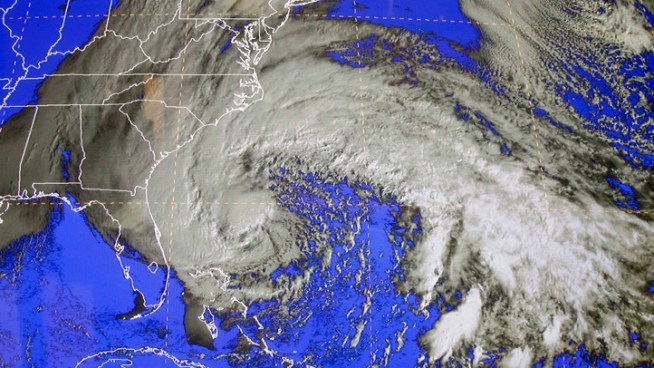 AP
A satellite image of Sandy is shown at the National Hurricane Center in Miami, Saturday, Oct. 27, 2012. Early Saturday, the storm was about 335 miles southeast of Charleston, S.C. Tropical storm warnings were issued for parts of Florida's East Coast, along with parts of coastal North and South Carolina and the Bahamas. Tropical storm watches were issued for coastal Georgia and parts of South Carolina, along with parts of Florida and Bermuda. Sandy is projected to hit the Atlantic Coast early Tuesday. (AP Photo/Alan Diaz)
Old Saybrook is asking residents near the shoreline to begin evacuations Sunday morning.
First Selectman Paul Fortuna declared a State of Emergency for the town Saturday ahead of the arrival of Hurricane Sandy.
Old Saybrook Police Chief Michael Spera issued the voluntary evacuation order at 8:15 a.m.
"It is hereby ORDERED that VOLUNTARY EVACUATION FOR ALL RESIDENTS AND BUSINESSES SOUTH OF BOSTON POST ROAD or AREAS IN DANGER OF BEING IMPACTED OR ISOLATED BY RISING FLOOD WATERS shall take effect at 0815 HRS," the evacuation order read.
The town's Department of Public Safety put together a list of streets that are likely to flood and are strongly recommending residents who live on those streets to evacuate.
According to police, Old Saybrook schools will be closed Monday and Tuesday.