This wedding snapshot just might put every other couples' big day photos to shame.
The photographer's snapshot of the mysterious newlyweds who didn't know they were being photographed shared the photos online in an effort to find out who they are. By Tuesday, they were found, but a photographer who shot their wedding said they wish to remain anonymous.
The viral image was taken by photographer Mike Karas, of Hawaii, who was simply enjoying the sunset in Yosemite this week. He said he happened to be in the right place at the right time when the couple, dressed for a wedding, emerged from the shadows.
That's when Karas snapped a once-in-a-lifetime photo of the duo as they embraced on top of a Yosemite cliff with the golden sun setting behind them.
The photo Karas took of the unforgettable photo is one of his favorite works.
Top News: Iraqi Advances Against ISIS, Italy Quake and More
"It was surreal," he said. "We had seen the bride and groom walking down, but all of a sudden we saw them out on the ledge as we were shooting other photos and that 'Eureka!' moment just unfolded."
Karas shared the photo on Instagram and Facebook in hopes of hunting down the couple so that he could share the priceless picture with the newlyweds.
As he waited, he was grateful to the mysterious tandem for allowing him to share in an extraordinary moment that was captured with just one frame.
"Thanks for adding to an already amazing sunset photo opportunity and I would love to be able to share this with you," Karas said. "As much of an amazing moment it was for me to capture, it was clearly an even more special moment in your life."
Cellphone Video Shows Group Knocking Over 'Duckbill' Rock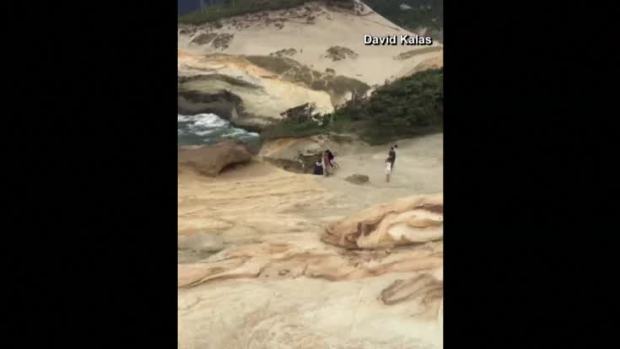 Cellphone video shows the moments when a group of people seem to knock over an iconic rock formation known as the "Duckbill" on Aug. 29 at Cape Kiwanda State Natural Area in Oregon. The formation was roughly 7 to 10 feet across and sat behind a fenced area on the outer edge of the sandstone bluff. (Published Tuesday, Sept. 6, 2016)
The couple in the photo wants to remain anonymous, Derek Copenhaver, one of the photographers who photographed the wedding, told NBC Bay Area.
Copenhaver added that the ceremony was performed in Yosemite Valley before the bride and groom hiked up to Taft Point to snap some candid shots. And yes, the bride sported her white dress during the ascent, a trek that Copenhaver noted is actually "relatively easy."
The photo was taken at sunset on Sept. 1 at Taft Point along the Pohono Trail in Yosemite National Park.
Published at 8:14 AM EDT on Sep 6, 2016 | Updated at 8:00 PM EDT on Sep 6, 2016