Friday, Oct 19, 2012 | Updated 8:48 AM EDT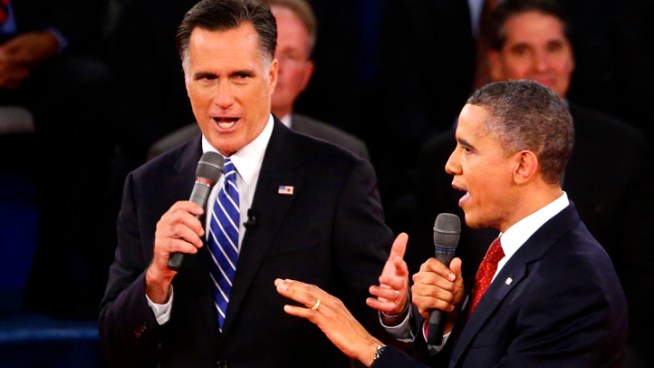 AP
President Barack Obama and Republican presidential candidate and former Massachusetts Gov. Mitt Romney participate in the second presidential debate at Hofstra University in Hempstead, N.Y., Tuesday, Oct. 16, 2012. (AP Photo/Charles Dharapak)
President Barack Obama has a narrow lead over former Massachusetts Gov. Mitt Romney in the latest University of Connecticut/Hartford Courant poll, but the number of voters still unsure of their choice is shrinking as Election Day nears.
The poll of likely voters nationwide shows Obama and Vice President Joe Biden with a 48 to 45 percent lead over Romney and U.S. Rep. Paul Ryan. Just 6 percent of voters remain undecided.
"Very few voters are still on the fence about these candidates. That suggests Obama and Romney have succeeded in getting their messages out, but it also means they're going to have to work hard to get their core supporters excited about going to the polls," Jennifer Necci Dineen, a member of the College of Liberal Arts and Sciences' Department of Public Policy, said in a news release.
Forty-seven percent of likely voters think Obama and Biden will prevail, compared to 33 percent who think Romney and Ryan will win.
The surveying ended on the night of the second presidential debate, so most people questioned hadn't seen it when they responded to the survey.
"What's interesting is that while the race is very close, most voters think President Obama will win, despite Mitt Romney's strong performance in the first debate and subsequent surge of support," Dineen said.
The poll also showed a gender gap, with women favoring Obama 55 to 38 percent and men backing Romney 53 to 41 percent. Romney also does well with voters who attend religious services at least once a week, by a margin of 51 to 43 percent.
Among voters who never attend religious services, Obama is leading 61 percent to 31 percent.