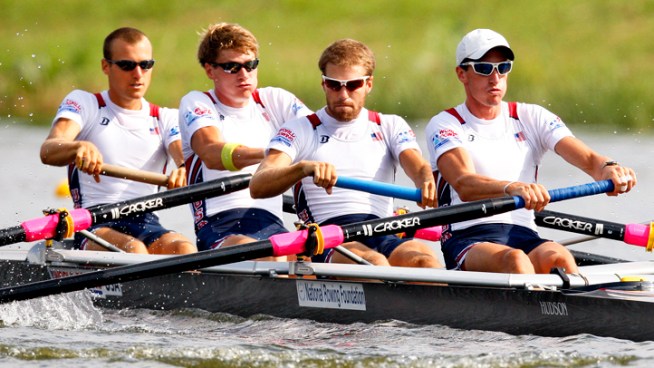 USA's William Daly, Brian De Regt, Nick LaCava and Taylor Washburn, from right, row during the Men's Quadruple Sculls semi-final race at the Rowing World Championships in Poznan, western Poland, Friday, Aug. 28, 2009. (AP Photo/Michael Sohn)
While training for the Olympics, you would think rower Nick LaCava, of Weston, might stay away from sweets. But he's actually all about the candy.
When LaCava and two of his fellow Columbia University graduates entered the job market in 2009, economic conditions forced them to reconsider their career paths. The three founded Chocomize, a candy company that allows people to create their own personalized chocolate bars.
Chocolate lovers can choose from three types of Belgian chocoloate, milk, dark and white, but it's the toppings that really set the customized candy bars apart. Choice of toppings range from the tame, such as walnuts or strawberries, to the wild --how do cayenne pepper, lavender, bacon or pop rocks sound?
In addition to building the company, LaCava has trained for the Olympics since 2009. He began rowing at the Saugatuck Rowing Club in 2000, but said he didn't think about the Olympics until after college.
LaCava will be competing in the lightweight men's four in London.