Trifle Italian Chicken Salad
This is great for those guests who are following the paleo diet or just want a healthier option!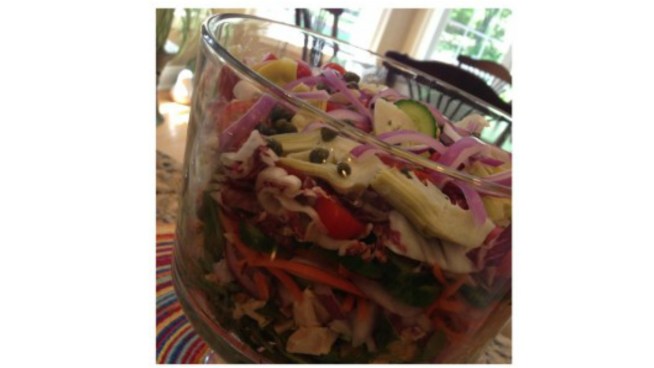 Rotisserie chicken, pulled apart
1 teaspoon sea salt
3/4 teaspoon freshly ground pepper
2 tablespoons chopped fresh flat-leaf parsley
2 tablespoons fresh lemon juice
1 teaspoon garlic powder
1/4 cup extra virgin olive oil, divided
4 cups fresh arugula
2 carrots, shredded or chopped
1 medium red onion, chopped
1 English cucumber, chopped
1 pint cherry tomatoes
1 head radicchio, chopped
1 can artichokes, drained and chopped
2 teaspoons capers
Easy Italian Dressing
Directions
Take your pre-prepared rotisserie from the grocery store and pull apart.
In a large mixing bowl add chicken. Season with salt an pepper then add in parsley, lemon juice, garlic powder and 2 tablespoons olive oil. Toss together.
Take your large trifle bowl and start with your layers.Start with the bottom layer of arugula, then 1/3 of the chicken, top with carrots, then onion, 1/3 more chicken, onions, cucumber, tomatoes, the remaining chicken then top with radicchio, artichokes and capers!