Darren Sweeney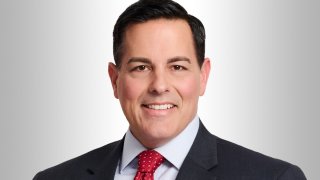 NBC Connecticut Meteorologist Darren Sweeney delivers Connecticut's most accurate forecast every weekend morning on NBC Connecticut. He also enjoys covering breaking weather during the week live in the studio and in the field.
Darren joined First Alert forecast team in October 2008 and has the recognition from the American Meteorological Society (AMS) with their seal of approval, as well as the National Weather Association (NWA) along with their seal of approval.
A Connecticut native, born and raised in West Hartford, Darren is happy to be forecasting for the station he grew up driving by and watching almost every day.
Darren's fascination with weather began at a young age through all of New England's wild weather extremes. His family knew he was captivated by storms because when everyone was going inside to take shelter, Darren would grab a video camera and go outdoors!

Darren has experience with forecasting New England weather. As a meteorologist for a Springfield TV station, Darren won two Associated Press awards for coverage of historic flooding in October 2005 and for Best Weathercast in 2006. He also reported live during severe weather events, most recently the massive flooding that took place along the Merrimack River in May 2006. More recently, he was honored with a "Breaking news" award by the Connecticut Society for Professional Journalists for his coverage of the 2009 EF-1 Wethersfield tornado.
Before returning to New England, Darren gained experience forecasting severe weather and chasing hurricanes for WFTX-TV in Fort Myers, Fla., where in a couple of instances, he was deployed to New Orleans to help sister stations cover Tropical Storm "Isidore" and Hurricane "Lilly" in 2002.
During his tenure at NBC CONNECTICUT, Darren has covered some of the biggest storms of his career. He was a part of the team that forecasted during Superstorm Sandy, Hurricane Irene as well as many tornado touchdowns.
Darren earned his Bachelor's degree from Central Connecticut State University and went on to earn his Master's degree at Syracuse University's highly regarded Newhouse School of Communication. In 2003, he graduated from Mississippi State University's Broadcast Meteorology program.
During his spare time, you'll find Darren on one of his famous road trips exploring beautiful New England (especially during the summer). Darren is also proud to be a tenured Associate Professor at his alma mater at CCSU teaching in the Department of Journalism. He enjoys mentoring students who are looking to get into the exciting field of journalism and broadcast journalism. He serves on the board of the Connecticut Society of Professional Journalists. Darren volunteers his time at many events raising money and awareness for different types of cancer research. You will also often find Darren involved with helping homeless animals finding good homes. His motto is "Adopt Don't Shop."