Leslie Mayes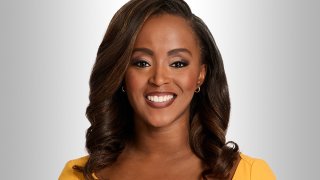 Leslie Mayes joined NBC Connecticut in 2015 and you can catch her reports on newscasts each weekday.
She's also the creator and host of "Connecticut in Color" a program dedicated to highlighting the stories and discussing the issues of the Nutmeg State's communities of color.
Leslie joined NBC from Charlotte, North Carolina where she was a morning reporter at News 14 Carolina.
Prior to her time in the south, she covered national politics as the Washington Bureau producer for the Time Warner Cable News channels. While in the nation's capital, she covered both of President Barack Obama's inaugurations and several State of the Union addresses.
Leslie began her career in TV behind the camera as a news assistant and photographer in New York City for NY1 News. While there, she traveled across the country on the campaign trail, where she followed the Hillary Clinton and Obama presidential campaigns, the New York State Senate coup, and the Eliot Spitzer resignation.
Born and raised in Washington, D.C., Leslie credits her roots in the nation's capital for her early love of news and current events, particularly national politics. She holds a degree in Government & Politics from St. John's University in New York City.
Leslie is an active member of the National Association of Black Journalists, enjoys working with children from under-served communities, and telling stories that might often go unnoticed.
When she's not chasing Connecticut's latest news, you can usually find her making plans for her next international trip, cooking or looking for a new local restaurant to enjoy a good meal.
She and her husband and their cat Chloe live in Hartford County.
You can follow Leslie on Facebook and Instagram @LeslieMayesTV