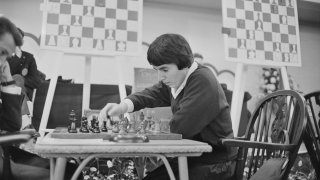 A former Soviet chess master is suing Netflix over a line in last year's popular series "The Queen's Gambit," in which fictional characters claimed that this real-life female chess master "never faced men."
The $5 million defamation lawsuit was filed in the Central District of California on Thursday by Nona Gaprindashvili, chess master from Georgia who became a champion under the former Soviet Union.
"Elizabeth Harmon's not at all an important player by their standards," an announcer says in the show's final episode. "The only unusual thing about her, really, is her sex. And even that's not unique in Russia. There's Nona Gaprindashvili, but she's the female world champion and has never faced men."
Gaprindashvili's lawsuit says the fictional line about an actual person is demonstrably false, and states that "By 1968, the year in which this episode is set, [Gaprindashvili] had competed against at least 59 male chess players (28 of them simultaneously in one game), including at least ten Grandmasters of that time."
Read the full story on NBCNews.com.