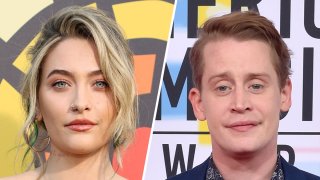 When Paris Jackson signed onto the "American Horror Story" spinoff, she knew she'd have to keep the details of her part under wraps. However, there was one person she felt she could confide in: Macaulay Culkin, her godfather and a fellow AHS alum.
"They were very, very uptight about the NDAs and things like that," Jackson exclusively told E! News. "But I did figure, he signed an NDA, he's in the AHS family. I feel like if I could tell anyone, it would be him."
So, she asked the "Home Alone" star for advice on how to go about her audition. Culkin's advice? Go big or go home. "He said overdo it at certain points," she recalled. "Kind of like, overact and kind of make it theatrical."
Clearly, the direction paid off as Jackson landed the role of Maya in the two-episode premiere of "American Horror Stories."
Everything We Know About American Horror Story Season 10
It's clear Jackson had a blast filming the new horror anthology series. In fact, she revealed to E! that she and Culkin sent each other, uh, interesting selfies from set, noting, "I sent him a picture of my face covered in blood and then he sent me a picture of blood in his hair. It was cute."
Culkin -- who stars in the upcoming season 10 of AHS -- has always been close to the Jacksons, having been a longtime friend to Paris' father, the late Michael Jackson. In addition to Paris, the former child star is also godfather to Michael's two sons, Prince and Blanket (a.k.a Bigi).
So, it's no wonder the "My Girl" actor is very protective of the trio. Back in 2018, Culkin discussed his close bond with Paris on Marc Maron's WTF podcast, revealing, "I'm going to warn you now I am very protective of her so just look out... She is beloved by me."
Later that same year, Paris paid tribute to Culkin on his birthday, writing, "I love you so so dearly and keep you very close to my heart. Always."
You can catch the two-episode premiere of "American Horror Stories" on FX on Hulu now. New episodes arrive on Thursdays.
Copyright E! Online