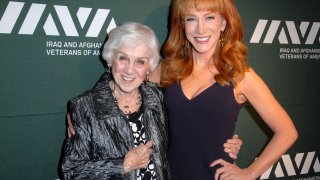 Maggie Griffin, the mother of comedian Kathy Griffin and co-star of her daughter's Bravo reality series "My Life on the D-List," died Tuesday. She was 99 years old.
Griffin announced in a tweet Tuesday evening that Maggie died on the morning of St. Patrick's Day.
"My Mom, the one and only, Maggie Griffin, passed away today. Hours ago," Griffin wrote. "I am gutted. She was my best friend," she continued. "You knew her. She appreciated you guys so much. I'm shaking. I won't ever be prepared."
Griffin revealed in January that her mother was suffering from dementia. She detailed her mother's health struggles in a lengthy Twitter thread alongside a photo of the last time she "was able to have a proper/coherent conversation" with Maggie in September 2019.
Griffin wrote at the time that since the photo was taken her mother had "rapidly fallen into the throes of dementia."
"This is never easy for any child. I know this is a reality that millions of people deal with every year. But when it comes to my mom this is particularly hard because her sharp mind was everything," she wrote in the thread.
Maggie Griffin was a fan favorite on her daughter's reality show "Kathy Griffin: My Life on the D-List," which premiered in 2005. Her penchant for wine and witty quips were often fodder for her daughter's stand-up routines.
Fans and celebrity friends alike replied to Griffin's post with messages of condolence and support.
"So sorry Kathy, she was one of a kind. I loved her. RIP so sorry for your loss," actress Suzanne Somers wrote.
"Sending tons of love to you!" "Modern Family" star Jesse Tyler Ferguson commented.
Chrissy Teigen added, "Oh Kathy. I am so, so sorry. We love you."