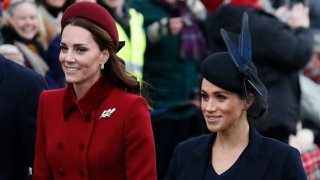 Meghan Markle opened up to Oprah Winfrey about a story the press reported on about her and Kate Middleton that was incorrect. The story claimed that Meghan made Kate cry in the days before her wedding to Prince Harry. But Meghan says it was the other way around; it was actually Kate who made her cry.
"The reverse happened," Meghan said.
During Oprah's highly anticipated CBS sit-down with Meghan and Prince Harry on Sunday, Meghan addressed reports that she left Kate in tears days before the May 2018 wedding due to a disagreement regarding flower girl dresses.
"A few days before the wedding, she was upset about something pertaining – yes, the issue was correct – about flower girl dresses, and it made me cry, and it really hurt my feelings," the Duchess of Sussex said. "And I thought, in the context of everything else that was going on in those days leading to the wedding, that it didn't make sense to not be just doing whatever – what everyone else was doing, which was trying to be supportive, knowing what was going on with my dad and what-not."
Meghan said she doesn't want to "be disparaging to anyone" and acknowledged that the week leading up to the wedding had been "really hard.
Kate Middleton's Recycled Looks
"She was upset about something, but she owned it, and she apologized," Meghan continued. "And she brought me flowers and a note, apologizing. And she did what I would do if I knew that I hurt someone, right, to just take accountability for it."
Meghan said was surprised when that story was in the press several months after the wedding, noting "I would have never wanted that to come out about her ever, even though it happened."
She told Oprah that Kate is a "good person" and that the British press seemed to want to find a hero and villain in the situation.
"I think so much of what I have seen play out is this idea of polarity, where if you love me, you don't have to hate her," Meghan said. "And if you love her, you don't need to hate me."
E! Online, NBC