Broadway audiences are bracing for a surge of closures this month from shows new and old, many with passionate fans sad to see them go.
There's an unusually large number of shows leaving in January, some due to limited engagements and others due to weak ticket sales.
Among the closing crop is "A Strange Loop," which won over audiences and critics alike. The musical won a Pulitzer Prize and the Tony award for Best Musical. There are a handful of performances left before the show closes Jan. 15.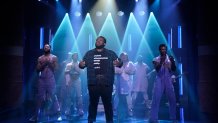 Audience favorite "Beetlejuice" ends its run on Broadway Jan. 8.
The show opened in 2019 at the Winter Garden Theatre, closed with the rest of Broadway after COVID-19 swept through New York City in 2020, and reopened at the Marquis Theatre last year.
A national tour of the show is going on now, with several international productions in the works.
Here are some of the productions closing in January:
1776 (1/8)
Almost Famous (1/8)
Beetlejuice (1/8)
Into the Woods (1/8)
Death of a Salesman (1/15)
Mike Birbiglia: The Old Man and the Pool (1/15)
The Music Man (1/15)
Ohio State Murders (1/15)
A Strange Loop (1/15)
Topdog/Underdog (1/15)
The Piano Lesson (1/29)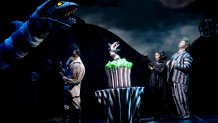 Off-Broadway audiences are mourning a number of high-profile departures as well.
After a run that spanned four decades and probably hundreds of trash cans, "Stomp" plays its final show at the Orpheum Theatre on Jan. 8.
The percussion and dance show first opened in Feb. 1994, with a run that's included around 12,000 performances. And while the off-Broadway production is closing, "Stomp" will continue to tour.
Copyright NBC New York