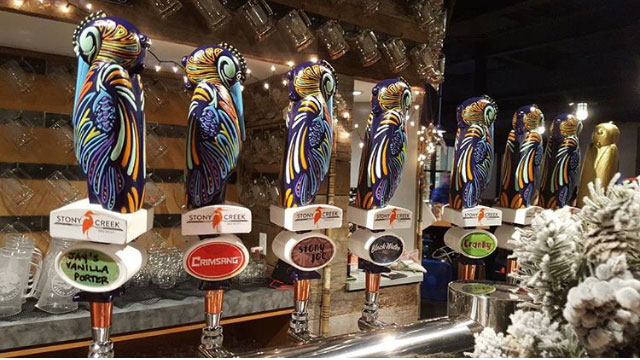 Craft breweries are finding a hoppy success in Connecticut after the opening of dozens of companies within recent years.
"The sun is always shining at Stony Creek Brewery," Ed Cowey Jr., co-founder of the Stony Creek Brewery in Branford, said. "There has been a noticeable increase in demand for craft beer in Connecticut. We just feel so blessed to be a part of this time in beer popularity."
In Connecticut, 16 breweries opened in 2012 and that number increased to 49 in 2016, according to the National Brewers Association. In 2014, breweries added about 4,632 jobs in Connecticut and more than 424,000 jobs nationwide.
The increase in breweries is due, in part, to the state legislature changing liquor laws to allow breweries to serve beer on the premises in 2012. Before the change, breweries were only allowed to give tastings and were required to get a liquor license in order to serve beer.
Today, breweries can sell beer "over the counter" in its very own taprooms, allowing them to make a larger profit without having to deal with the extra costs and regulations of obtaining a liquor license.
Shortly after the law was changed, many new breweries opened their doors, including Two Roads Brewery in Stratford. They were one of the advocates to push for the change in Connecticut liquor laws.
"We worked very closely with town and state officials to present a compelling case to have this law altered," Brad Hittle, co-founder of Two Roads Brewery, said. "It worked to our benefit, as well as, all the other breweries in Connecticut that have opened since then. We couldn't be more pleased with how things have turned out."
At the beginning of July, the state made another change to liquor laws, tailored more narrowly towards farm breweries. The Farm Brewery Bill allows the manufacturing, bottling, wholesale distribution and sale of beer manufactured at the farm. The bill also gives permission to advertise the beer as 'Connecticut State Beer', as long as at least 25 percent of the ingredients used to make the beer come from within the state.
Representative James M. Albis of the 99th district in Connecticut was one of the main supporters of the bill and sees supporting craft breweries as beneficial to the state's economy. He has noticed a significant increase in the number of craft breweries and is optimistic about the economic impact this increase will bring to the state.
"Craft breweries hire local residents, participate in local chambers of commerce, and provide social outlets for residents in our state," Albis said. "By keeping as much of the supply chain for beer in state, consumers will be spending their money on local products and businesses that hire local residents. The higher market share for Connecticut craft beer, the more we will be feeding into our local economy."
Many towns and communities across Connecticut have bore witness to the economic development that a local brewery brings. In Bristol, Firefly Hollow Brewing Company has brought in more foot traffic and according to founder Dana Bourque, has encouraged more businesses to start up nearby.
"It's not an uncommon thing to see a depressed area start seeing a lot more traffic when a brewery is in the town," Bourque said. "A lot of industries have come to the same area as the brewery and have benefited from the business that the brewery brings. The brewery helps to revitalize the town a bit."
A love for beer and a love for the local community, keeps customers coming back week after week for a glass of their hometown beer. For the brewers, it's this love and appreciation for their local community that brings more and more aspiring brewers to set up their business in Connecticut. Cowey couldn't imagine opening Stony Creek Brewery anywhere else.
"We live in the town of Branford and we absolutely love it here. We wanted to create a destination brewery in Connecticut. A place where people can come and vibe out and have a good time," Cowey said.