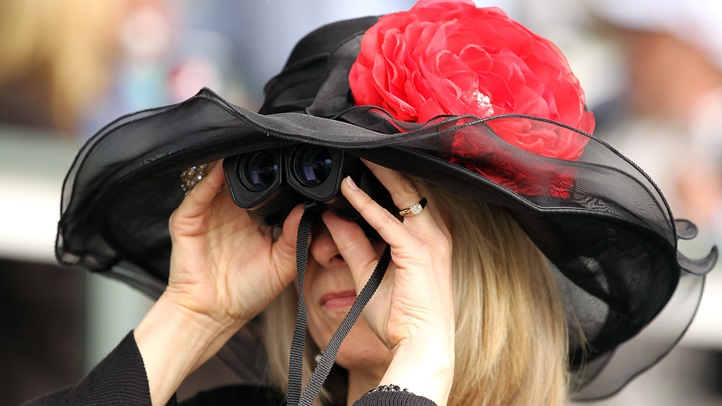 If you're looking for a place to show off your largest Derby hat, here are some local parties to celebrate the Garland of Roses, mint juleps and "the greatest two minutes in sports."
Blue Plate Kitchen, 345 North Main St. in West Hartford
The Derby Day party will be in the patio (weather permitting) with drink specials and a best hat contest. For information, call 860-906-1419
Brownstone Café, 14 Oakwood Ave., West Hartford
This Derby party will be held from 2 p.m. to 7 p.m. Food and drink specials for the day include Kentucky browns, spicy Bloody Marys and mint juleps. Contests will be held for best-dressed and best hat. For information, call 860-566-8280
Engine Room, 14 Holmes St., Mystic
Engine Room will host its first Derby Dinner at 7 p.m. The themed four-course Derby menu offers Benton's country ham on a cheddar biscuit, beef, pork and chicken burgoo, Kentucky "Hot-Brown" with slow smoked turkey and a Derby pie. Cost is $55, plus tax and gratuity. For information, call 860-415-8117,

Hot Tomato's, 1 Union Place, Hartford
At 3 p.m., this Derby day party will start with live music and prizes for best-dressed and best hat. Food specials include baby back ribs with cornbread and mint julep gelato for dessert. Drink specials include mint julep with Bulleit Bourbon, Superfecta with Knob creek bourbon, basil, and ginger beer, or the "Hat off to the Horses" including fresh muddled oranges, bitters, simple syrup, and Knob creek bourbon. For information, call 860-249-5100
Max's Oyster Bar, 964 Farmington Ave., West Hartford
In the bar, the Derby day party goes from 3 p.m. to 6:30 p.m. The menu features Kentucky-style cocktails with Russell's Reserve 10-year bourbon, and food, such as country ham on cheddar biscuits. There will be prizes and giveaways for a ladies' best hat contest. For information, call 860-236-6299
Plan B Burger Bar
Derby Day will be celebrated from 4 p.m. to 7 p.m. at its Milford, Stamford, Springfield, West Hartford, Glastonbury and Simsbury locations. The party offers a Derby-inspired menu, mint juleps with Four Roses bourbon, raffles, and contests for best-dressed and best hat.

The Milford location will host a Derby dinner with a six-course meal of deviled eggs, country ham biscuit with poached egg, "hot tom" roasted turkey sandwich with bourbon béchamel, cola-braised brisket and roasted peaches, fried chicken and popcorn and mint julep mousse. Tickets are $45.
planbburger.com

Rizzuto's
Throughout the weekend at all four locations in Bethel, Stamford, West Hartford, and Westport, Rizzuto's will offer $5 mint julep Manhattans and a dinner special of bourbon-glazed BBQ baby back ribs.
Zingarella, 83 W Main St, Plantsville
From 3 p.m. through race time, the Derby Party at Zingarella will include food and drink specials, music, and prizes. Ladies dressed in hats will be entered into a drawing for a Zingarella gift certificate. For information, call 860-628-9464,