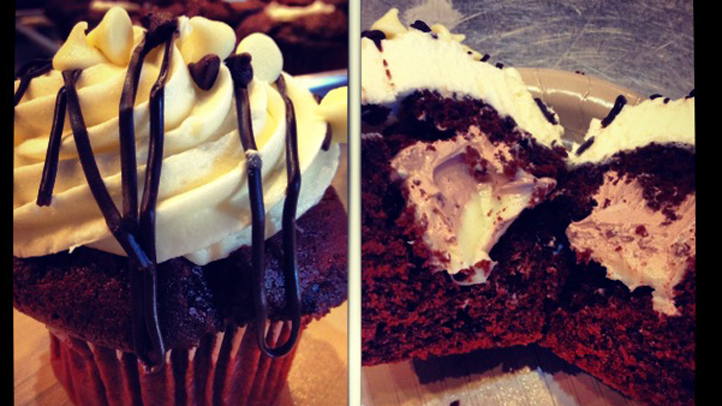 When the Dave Matthews Band asked a South Glastonbury farm if they wanted to supply food for the band and crew during a local stop on the tour, they said yes – in a big way.
Not only did Thompson Street Farm deliver, buy almost every vendor of the new Glastonbury Farmers Market also decided to participate.
If you're a Dave Matthews Band fan, you already know that they are performing at Comcast Theater in Hartford tonight and tomorrow night. While they are here, the chef will be serving sea scallops, vegetables, cheese, yogurt, pies, cupcakes, coffee and more from local shops and farms.
The crew at NoRa's Cupcake Company, in Middletown, was shocked and thrilled about an offer to bake for the band.
"This is our first international superstar," Carrie Carella, of NoRa, said.
After going through all the cupcake possibilities for the internationally acclaimed group, the bakery narrowed it down to 12 flavors.
This morning, a crew from the farmers market dropped the cupcakes, goat cheese, honey, kale, and many other items off at Comcast Theater.
Brenda Sullivan, president and market master for the Glastonbury Farmers Market Coalition Inc., said this all started because Thompson Street Farm in Glastonbury somehow got onto a list to supply to bands wholesale.
For three years, when Sullivan has gotten requests, she declined.
But that was before the Glastonbury Farmers Market existed.
Last Friday, after a representative of the Dave Matthews Band called, Sullivan went to the board of directors of the farmers market to see if they wanted to do it.
They said "sure."
From there, Sullivan had 24 hours to put everything together and the response from the vendors was great.
This morning, a group from the farmers' market went to the Comcast Theater and delivered the food, hoping to catch a glimpse of Matthews. That did not happen, but knowing his crew will be enjoying their products is enough.
"He was so generous," Sullivan said of Matthews.
"I don't know what the Dave Matthews Band is saying, but we're hoping that they're pleased with our products and would be willing to try us again next year," Sullivan said.
She left behind Glastonbury Farmers Market bags as a reminder.
Carella also left the band with some NoRa brochures.
Glastonbury Farmers Market opens to the public on Saturday, June 29. See their Web site for more information.
The following local companies supplied food for the band:
Beckett Farm, Glastonbury
Bednarz Farm, Glastonbury
Beltane Farm, Lebanon
Killam & Bassette, South Glastonbury
Ladies of Lebanon, Lebanon
Thompson Street Farm, South Glastonbury
Sugar Maple Farm, Lebanon
Local Catch, Point Judith Rhode Island
DiFiore Pasta, Hartford
Ginger & Pickles, Glastonbury
Morning Glory Homemade Goods, Glastonbury
NoRa's Cupcake Company, Middletown
Shayna B & the Pickle, Ashford
SoG Coffee Roasters, South Glastonbury