It's around 1:45 a.m. on a Sunday morning in East Haven and behind the wheel of a stolen SUV is a 15-year-old.
While one officer chases after the teen, two others responding to the pursuit crash into each other.
WATCH: East Haven Dash Camera Footage Shows Pursuit, Crash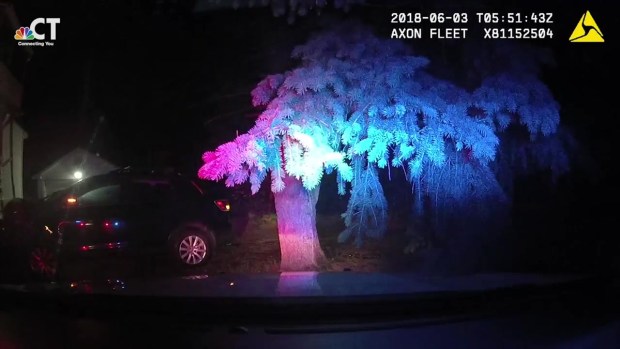 The teen is given a dozen charges, a court date and then gets taken home to a guardian.
"It's dangerous for them, it's dangerous for our officers," Madison Police Chief Jack Drumm said.
They are similar scenes playing out in Connecticut's smaller suburban towns. More and more juveniles are stealing cars and taking them on dangerous even deadly joyrides, often facing small, if any, penalties.
"Those that are apprehended are out on the street within a short period of time and continuing to do that." Drumm said.
In March a 17-year-old from Hartford was killed after he was ejected from a Mercedes SUV stolen in Madison.
Drumm says the teens, repeat offenders, in three SUVs, made multiple loops around the Route 80/Route 79 traffic circle as if to taunt a nearby patrol officer.
"By our radio transmissions and our video the officer tried to close in on them and she could not," Drumm said.
The teens topped speeds of more than 100 miles per hour before the pursuit was called off. The Mercedes later rolling several times off the roadway in Durham, killing the 17-year-old. The deadly crash now under investigation by Connecticut State Police.
"It's not unheard of that a community miles from any major city will have cars taken," Drumm said.
Drumm says his department has seen about 50 car thefts within the last two years. It's a major increase, and Connecticut towns with fewer than 25,000 people are seeing more of the problem.
"It used to be predominately concentrated in our major urban cities, Hartford, Bridgeport and New Haven," Ken Barone, a project manager with the Institute for Municipal and Regional Policy at Central Connecticut State University said.
This legislative session, Barone has been tapped by Connecticut lawmakers considering harsher punishment for repeat juvenile offenders to share his research on motor vehicle theft trends.
"We've got several more smaller suburban towns that used to see very few if any motor vehicle thefts that are now all of the sudden dealing with five, 10, 15, 20 motor vehicle thefts a year," Barone said.
"People are certainly demanding that something be done, people are frustrated," Rep. Craig Fishbein (R -Wallingford) said.
State lawmakers like Fishbein are now left to decide on proposed legislation that would hold juveniles stealing cars accountable as adults.
"When we hear about these children, then a week later being arrested again obviously whatever happened didn't work," Fishbein said.
While Fishbein supports diversionary programs for first time offenders, he says juveniles who choose to steal a car again should face consequences.
"Committing a crime at most levels is a choice and bad choices should end up with some sort of penalty," Fishbein said.
Chief Drumm argues that many of the juvenile offenders he sees are already off track.
"You have some sort of educational component and some sort of therapy component and psychological work for that justice system to work," Drumm said.
What both this police chief and lawmaker agree on, if improvements aren't made soon, juvenile joyrides like these could continue at top speed.