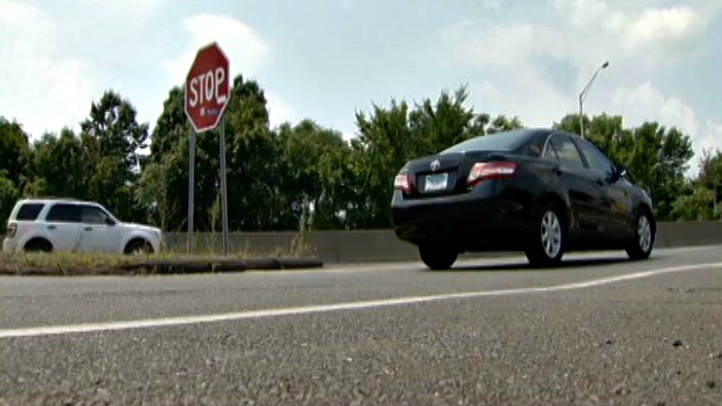 They're among the most problematic intersections in Connecticut. Hundreds of drivers wreck there each year. So why isn't the state rushing to the rescue in some cases?
The state provides a list to the Federal Highway Administration each year called the Connecticut 5% Report. The list includes traffic spots with the highest frequencies of accidents based on patterns and trends.
Topping the list in the Nutmeg State is an on-ramp in Middletown that is known to give fits to drivers.
"It makes me nervous going down there," said Heather Lewis of Middletown.
Motorists entering north-bound Route 9 from Route 17 are forced to stop at a stop sign. It was the location of 144 automobile accidents in 2010. There were no fatalities, but 39 involved minor injuries.
Traffic officials said drivers stretch their necks at the on-ramp stop sign while looking for a gap in oncoming traffic from Route 9. Often, a driver will start to enter the highway but then have second thoughts. That's when they get rear-ended by the driver on the ramp behind them.
"It's poorly designed and it's something you have to be extra careful every time you use it," said Michael Greenwood of Middletown.
A similar set-up in New Haven was the scene of even more wrecks. In 2010, drivers were involved in 178 accidents where Route 69 pours into Route 15 south-bound.
"You can barely go. One time I almost got into an accident," said Mark Cofrancesco of Woodbridge.
The New Haven spot has the state's attention.
"We are reviewing it to determine if there is something that we can do to make that a little bit more forgiving for motorists," said Kevin Nursick of the Department of Motor Vehicles.
The 5% Report also highlights Route 287 at Thornbush in Wethersfield, Route 127 at Stillman in Bridgeport and Route 8 near the Route 67 interchange in Seymour. All are red-flagged as areas of concern.
DOT crews have already made improvements to the Seymour traffic spot. Other safety improvements to state highways not mentioned on the 5% Report include a $70 million project on the Merritt Parkway in Trumbull and the addition of bicycle lanes to Burnside Avenue in Hartford.
According to the 5% Report, a new $200 million dollar interchange may help remedy the wrecks at the Route 17 and Route 9 spot in Middletown. However, the state argues most of the accidents there are only fender benders.
"It's a lot of money to have to put to the top of our list when really no one is being hurt here. Nobody is getting killed here. These are minor crashes, albeit, there are a lot of them," Nursick said.
Nursick said the DOT tries to make the highway infrastructure as forgiving as possible, but says too often drivers who are speeding, following too closely to other cars, using the phone or texting are to blame.
"Fundamentally, motorists are failing to obey the rules of the road," Nursick said.
But the list implies that the state knows there are spots that rattle drivers.
"They should take people's anxiety into account," Lewis said.
They may be mostly fender benders now, but drivers fear something worse could happen if changes to the traffic locations are not made soon.