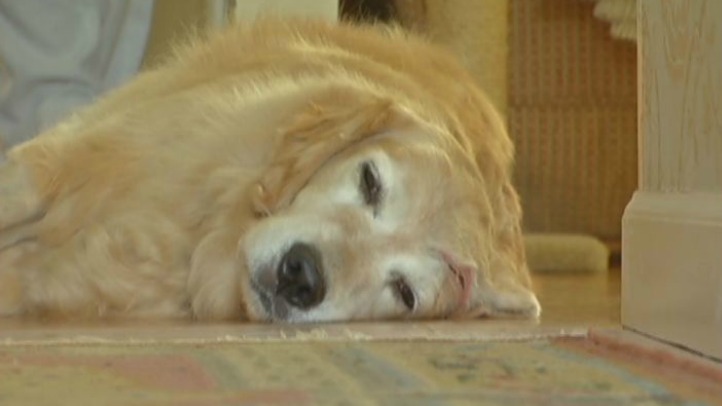 8-year-old golden retriever Gracie of Newtown is typically loving, energetic and full of life. All of that changed in mid-August when she was struck in a hit-and-run delivery accident by a FedEx truck in her owner Sherry Paisley's drive.
She sustained several open wounds that were life-threatening and expensive. The accident caused nearly $5000 in treatment for a ravaged ear, a broken leg, and maggots that grew inside Gracie.
"He backed up this way," Paisley said of the truck driver, as she stood at the top of her hilly driveway. "He caught her and dragged her. There was an eight foot swath of tire mark, full of golden hair and blood."
It has resulted in a nightmare for Paisley. After she was hit, Gracie bolted and was nowhere to be found.
"She just ran," Paisley remembered, after the truck hit the dog. "She went through the fence and was gone."
Newtown Animal Control officer Carolee Mason launched a search immediately and found Gracie incapacitated in a neighborhood swamp.
"I went 'Gracie!' and I heard her head popped up. I said, 'Oh thank god it's her," Mason recalled.
"She was covered in mud, blood and flies," owner Paisley remembered.
Mason transported Gracie to the nearest animal hospital where she was treated for several days.
"The doctor said, 'It's a good thing you got her in here because if she'd be out all night, I don't think we could have saved her,'" Paisley said.
As Paisley nurses her beloved dog back to health, she's been trying to get FedEx to take responsibilities.
"What I want from FedEx is to apologize for this and make it right," Paisley said.
After weeks of phone calls, letters and run around, Paisley said FedEx finally responded to her via its risk management company, Broadspire. She said a representative told her FedEx would try to help but did not promise anything at that time. Paisley was far from satisfied.
"They just want me to go away, quietly. I'm not going to," Paisley said.
Paisley then turned to the media for help. It was not until the NBC Connecticut Troubleshooters intervened that she finally received a concrete answer from FedEx.
In a statement, FedEx spokesperson Steve Fiedler told NBC Connecticut:
"We want to offer our sincerest apology to Mrs. Paisley. Our heart goes out to her as she continues to nurse her beloved pet. We are thankful that Gracie is safe, at home and receiving medical care. FedEx will pay the veterinarian bill in full."
When we inquired about how many pets or animals FedEx vehicles have injured over the past year, FedEx declined to specify.
"We do everything possible to avoid incidents like these, which are rare," Fiedler said.
Paisley, a die-hard Golden Retriever lover, recently mailed the final veterinary hospital bills for Gracie to FedEx and she is looking forward to receiving the check. She is also counting her blessings.
"We're very, very tight and I really don't know what I'd do without her," Paisley said.