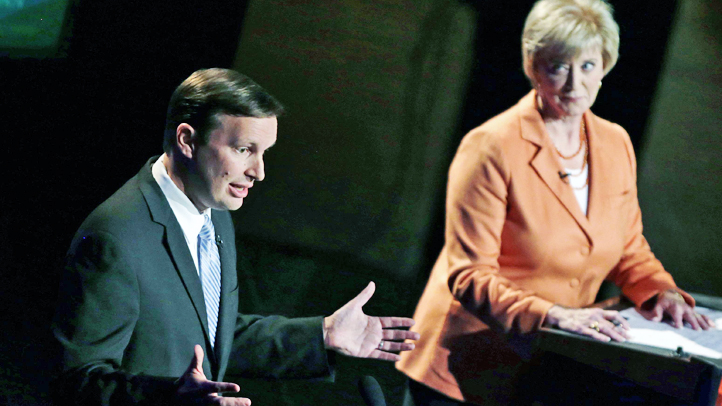 Connecticut is ground zero for a battle that could change the national balance of power in Washington and it's become one of the closest and most expensive Senate races in the country. For the candidates, money is both a campaign and substantive concern.

"I don't know you can put a value on the kind of investment that you would make, to make sure you can continue to America's promise for opportunity," Republican candidate Linda McMahon told NBC Connecticut.

"I think it's completely wrong that a billionaire like Linda McMahon can come in and try to buy a race having absolutely no background in public service," Democratic candidate Chris Murphy said in an interview.

Linda McMahon and Chris Murphy have engaged in an all-out air war to the tune of tens of millions of dollars. It's all for one of four key seats Republicans must win to gain control of the U.S. Senate in November.

"If you look around the country at the way other races are shaping up, there's no route that I can see through which the Democrats maintain their majority in the Senate without holding this Connecticut seat," says Vin Moscardelli, professor of political science at UConn.

The NBC Connecticut Troubleshooters dug up the details that show how this local race has become a national destination for cold hard cash.

According to the most recent Federal Election Commission (FEC) reports, McMahon has raised $14 million dollars, holding a major advantage over Chris Murphy, who has raised $5.6 million as of this summer.

For Murphy, his $4.6 million comes from 4,480 individual donations, ranging from $5 to $2500 each, the maximum possible individual donation under federal law.

His donors come from every state in the Union except West Virginia. Among them is a writer in Hawaii, a physics professor in New Jersey, an executive in Georgia, a cashier in Minnesota, a cake decorator in Oregon and even an American living in Paris.

Murphy has also received nearly $1 million from political action committees such as Goldman Sachs, General Electric, Lockheed Martin and the National Beer Wholesalers Association. These top out at $5000 each, the federal limit for PAC donations.

Unlike Murphy, McMahon has not received PAC money. Also unlike Murphy, most of McMahon's $14 million is her own investment. She's given her campaign $663,000 and loaned it another $12.4 million as of this summer.

McMahon has only received $665,000 from 556 individual donations. Her supporters are not all local either. Money comes from 18 other states: Alabama, Arkansas, California, California, Florida, Massachusetts, Maryland, Maine, Missouri, New Jersey, New York, Pennsylvania, Rhode Island, Tennessee, Texas, Virginia, Vermont and Wyoming.
Her donors include extended family in Texas, investment bankers in New York, a restaurant owner in Florida, a retiree in Missouri and many more.

On top of all that, UConn political science professor Vin Moscardelli says the $50 million McMahon spent on her failed bid for the Senate in 2010 against now-Senator Richard Blumenthal appears to be paying dividends now.

"It didn't just vanish into thin air. In a lot of ways she never even quit running," Moscardelli told NBC Connecticut. "So she's built up this name recognition where voters are now familiar with her in a way they simply weren't before."

Connecticut Democratic Party chair Nancy DiNardo argues Murphy is not dominating in the polls only because he is only well-known in his own congressional district.

"Is it a disadvantage that it's not statewide? Yes, that he's only known in the fifth. He's getting around now and I believe people are getting to know him," said DiNardo.

Connecticut GOP chair Jerry Labriola predicted McMahon will spend upwards of $80 million by election day. He called the money "extraordinary" but necessary for the Republican party to succeed in Connecticut.

"With inadequate resources, I'm pretty sure we know what the result would be. We would continue to have one party domination. So it probably needs, we need an effort like this to see if we can breakthrough," Labriola explains.

McMahon insists the effort is worth her every penny.

"I've got 6 little grandchildren. I don't know how I could measure dollars and cents what it would mean to know that they are going to be able to grow up in a country and have the same opportunities their grandfather and I did," she said in an interview.

Meanwhile, Murphy, who is now leading in the polls by the smallest of margins, has received a $300,000 ad buy from the Democratic Senatorial Campaign Committee (DSCC). But the financial gap is remains massive.

When NBC Connecticut asked Murphy if he ever wished he had the type of cash McMahon has injected into her own campaign, he responded with a laugh:

"You know, I think it's important to have a few U.S. senators who are from the middle class."