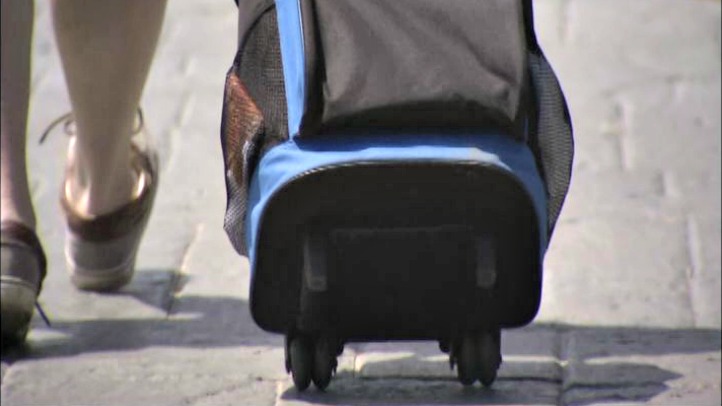 Lou and Mary Lou Reignier have traveled to every corner of the globe over the course of their marriage. So a short trip to Westbrook for a long weekend at the Water's Edge Resort was nothing more than an easy getaway. Their weekend turned out to be anything but easy. The Wolcott couple found themselves at a luxury resort minus a large bag containing nearly $2,000 in valuables.
The Reigniers say they were walking across the resort with their bags in tow. They realized they were lost, and sat on a bench while figuring out where they needed to go. That's when they say a porter drove up in a golf cart. Up to this point in the story, both the Reigniers and Water's Edge managers agree. This is where the stories split.
"The porter told them I'll be right back and I'll help you," said General Manager Chris Barstein. "He didn't tell them go to the room and leave your bags. He said I'll be right back."
The Reigniers recall the conversation differently.
"He pointed out where our unit was - he said you can go there. I have one stop to make. Just leave it here. I will pick it up. I will deliver it to your unit," said Lou Reignier.
"He insisted, he insisted that he would be there in two minutes," said Mary Lou Reignier. "So wouldn't it be better for you to go get settled and I'll bring your luggage to you."
The Reigniers left their bags behind. When the porter got to their room they say two bags were missing, including a large duffel with clothing, jewelry, medicine and make-up. The Reigniers haven't seen it since.
The hotel maintains the porter never told them to leave their bags and is not responsible for the loss, while the Reigniers say that's exactly what they were told.
Consumer attorney Daniel Blinn says when it comes to lost luggage negligence can be a difficult thing to prove.
"Examples of negligence on the part of the hotel would be if they were to misplace luggage while they're delivering it to a room if it hadn't been checked, or if the hotel were to accidentally give a key to the wrong person," said Blinn.
According to state law, hotels can be liable for anywhere from no more than $1,000 to as little as $350. In many cases that's just the cost of the bag alone.
"Consumers really do not have a lot of recourse for losses that can be substantially higher than that," said Blinn.
The current law was last reviewed by the legislature in 1949, and Blinn doesn't expect it to be reviewed anytime soon. That's because most people staying in Connecticut's hotels don't reside in the state, leaving lawmakers with little motivation to update the law. Federal law requires airlines to reimburse flyers up to $3,300 for lost luggage. Amtrak will reimburse up to $500 for lost luggage on their trains, more if they purchase insurance.
Blinn says in hotels, travelers should never let their bags out of their sight, even when luggage is being taken by a valet to your room. He also says if you do part with your belongings always get a claim check no matter where you are traveling. That's your only way of showing that the hotel has taken responsibility for your bags.
"If you do that it's going to be easier to track it down and I think that you're also going to make sure that the person who gives you the check is going to be aware that they are responsible for the bag," said Blinn.
Water's Edge General Manager Chris Barstein says they always give out claim checks for bags they handle and would have assumed responsibility for the Reigniers' bags had they done the same. In this case, however, he says the Reigniers' bags were simply left unattended.
"You see people walking down to the beach, people walking up from the beach all day long," said Barstein. "You can't leave, as you would anywhere outside, things unattended."
The Reigniers maintain they did what they were told by staff, and that they're paying for it with a hefty home owner's insurance deductible and a bad taste in their mouth.
"I will not ever go down there again, I won't," said Mary Lou. "And I will tell the story to everyone I come in contact with."