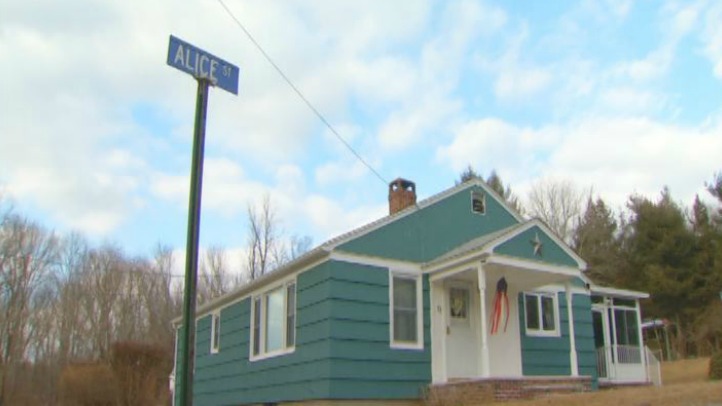 A homeowner in the Sprague village of Baltic is concerned that police, first responders and delivery trucks are having a difficult time finding her neighborhood.

Erin Spitale lives on Thomas Avenue. But the street sign near her home reads Alice Street.

"There's six houses that have a Thomas Avenue address, but we all turn on Alice Street to get home. It just doesn't make sense to me," Spitale said.

Both Alice Street and Thomas Avenue are owned by the same individual. Alice Street does not appear on some mapping systems. It is not technically considered a street. It's a gulley-filled right-of-way that was established in the 1960s. Thomas Avenue is an unpaved and rocky road that connects to Alice Street. But it could be difficult to find for people unfamiliar with the area.

A spokesperson for the Connecticut State Police said the resident state trooper in Baltic is very familiar with Alice Street and Thomas Avenue. However, Spitale argues any officer who may fill-in for the full-time resident state trooper may not be able to respond to an emergency as fast.

Spitale cited a specific example.

"I tried to call the police and the police looked for my home for forty minutes," Spitale said.

The same person owns both Alice Street and Thomas Avenue. Spitale said she knew that when she moved here, but the issues keep adding up.

"It'd be wonderful to have it paved, just properly maintained," Spitale said.

Sprague's first selectman said she has not heard of any issues where police or delivery trucks could not find Thomas Avenue, but she called the private roads "eyesores" that are impacting the condition of nearby Pautipaug Hill Road.

"It's, in part, bad condition because of the drainage that was never put in on the private roads and also we need better drainage on the public road," first selectman Cathy Osten said.

Spitale said her husband dug trenches along Thomas Avenue, otherwise the road would be washed out during hard rains.

But Osten said Sprague land records show the roads' owner is not responsible for repairs.

"I know everybody that lives on that road," Sprague said. "I feel their pain. I've sent town trucks up on the road to blade the road out."

Others who live nearby try to maintain the road marked Alice Street when they can.

"I've hauled in many yard of gravel and kept it up and tried to keep the potholes out for the people," neighbor Clifford King said.

According to Osten, it would cost around $350,000 to repair the private roads. But the town has no plans to purchase Alice Street or Thomas Avenue anytime soon.

Spitale runs an insurance business out of her home. She said something needs to change, even if it's a new street sign to clear up any confusion.

"I want to live on Thomas Avenue. That's where I live and that's where I should be able to turn to come to my house is on Thomas Avenue," Spitale said.