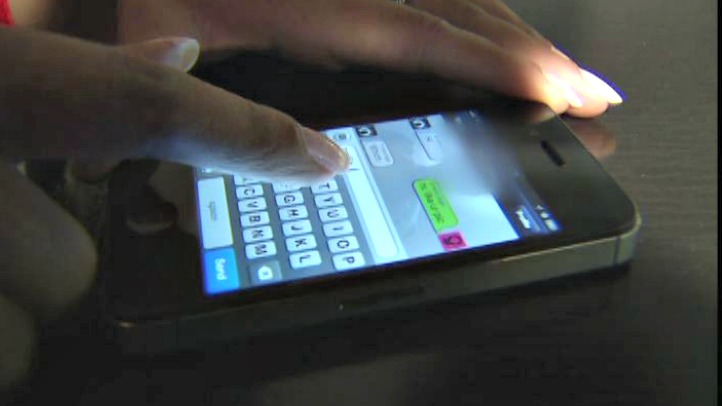 It's a hidden world that exists inside your child's smartphone. Apps that allow them to text or chat with friends and strangers, all for free. There are so many out there that even law enforcement can't name them all.
"I found text messages on the phone and they were not appropriate text messages and I found apps on her phone," said Vernon mom Stephanie DeSanto.
DeSanto thought she was a tech-savvy parent. She checked her 13-year-old daughter's iPhone diligently, and didn't allow texting or a data plan on the phone. But then she caught her daughter — who we'll call "Faith" — sexting, or exchanging racy text messages with a person who claimed he was a 17-year-old boy.
She met the boy on the flirting and chatting app Skout. "Faith" also used the app Textfree to get around her mom's texting ban. Apps like Textfree let kids send messages to friends' phones and even iPods using wireless Internet.
"She can do it at McDonalds, at Starbucks, they could do it anywhere. School has free WiFi," said DeSanto."It's a free app, so it's not like it's going to show up on my credit card."
DeSanto said her daughter would delete the app each time her mom would ask to check her smartphone. So Stephanie didn't catch on to what was happening right away.
Apps like Skout, its affiliated app, BoyAhoy, MeetMe — formally called MyYearbook—Grindr, and others are all built specifically on the promise of connecting you with new friends. All ask for age verification — a simple tap on the screen to confirm you're over the designated age, which varies from 17 or sometimes 13. They ask to use your current location to connect with other users nearby. In the iTunes store, some of these apps are rated 12 and over for profanity, sexual content and nudity.
So how easy is it for a stranger to make contact with your kid through their smartphone? Troubleshooter Sabina Kuriakose posed as a 13-year-old girl on Skout to find out.
"I've been on Skout for about eight minutes now, and so far three strangers have messaged me. One has asked me for a picture," Sabina reported.
Just a few minutes later, she was given another user's cellphone number and was asked to text him directly.
"Zack, who I met through this app about 10 minutes ago, has already asked me if I 'want to go out,'" reported Sabina.
That's not all. With all the personal details we found teens posting on these apps, we were able to track some of them down. We dug up last names, schools and even possible addresses all using common public search engines. The State Police tell us they've investigated cases where predators have used these random chat apps to geolocate their targets.
"These programs do have the ability to pinpoint where you are and then forward that information as part of your profile to the person you're speaking to," said Sgt. Richard Alexandre of the State Police's Computer Crimes Unit.
"It's just one more method for the predator to be able to make contact with the potential victim," he added.
We reached out to the FBI, state, and local law enforcement to find out how parents can prevent the kind of situation DeSanto and her daughter found themselves in. All told us the best thing parents can do is to talk to your child about the dangers of meeting strangers online, check your child's phone and text messages, and control the password needed to download apps to their smartphones.
A representative for Skout said that the app is suspending access to users 17 and younger while it works to adjust safety features. This comes after three cases of alleged rape surfaced in other states involving adults who met minors through Skout. Meantime, MeetMe and Grindr said they have age restrictions on who can use their apps, and they proactively monitor for offensive content to ensure the safety of users. All three companies said they ban users who violate their terms of service.