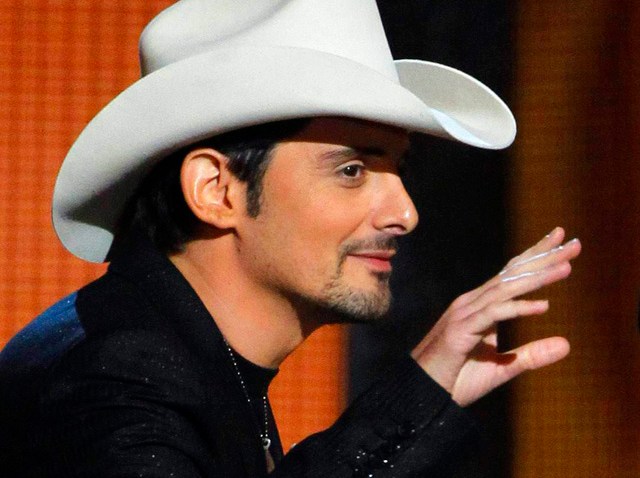 THE SINGER, NOT THE PATTERN: He's the freshly crowned Country Music Entertainer of the Year. Brad Paisley, one of the most popular acts in Country music today, is coming to Mohegan Sun Friday night. Paisley's eight album, American Saturday Night, may be his most successful, already launching three #1 singles. Plus, he's second only to Sonny James for most consecutive #1 singles in Country music history with 12. And if Brad Paisley wasn't enough, former Hootie and the Blowfish frontman (we dare you to call him Hootie)-turned country star Darius Rucker is also on the bill, as is Justin Moore. Tickets are $65-$85. The show starts at 8 p.m.
SLOPESTYLE: Ever want to know what its like to be a daredevil skiier, but don't have any coordination and hate the snow? Maybe that's just me. Anyway, Friday night, you can get an up-close look at some of the most unreal skiing in some of the most breathtaking places on the globe. Head to the Bushnell to see Warren Miller's "Wintervention." Miller is the name in action-sports filmmaking. And with "Wintervention," which is narrated by skiing icon Jonny Mosely, you'll understand why. The film premieres at 6:30 p.m. Tickets are $22.
SO LONG SEAGULL: The show probably wouldn't have been as popular if it had that name. Bye Bye Birdie is playing this weekend at the Warner Theater in Torrington. The latest Broadway incarnation stars John Stamos and Gina Gershon. But why travel all the way into the city, when you can see the show in your own back-yard. The rock-n-roll smash hit features 1960 hip-swingin' teen idol Conrad Birdie who just got drafted into the army. But before he ships out, his manager cooks up a plan to send him off with a swell new song and a last kiss from a lucky teenage fan on the "Ed Sullivan Show." Bye Bye Birdie is packed with classic songs. The show runs Friday through Sunday. Click here for show-times and ticket info.
RIM ROCKING: It's the start of one of the best times of the year. College basketball is back! And this weekend, you can see the UConn men and women begin their quest to raise another banner into the rafters at Gampel. The men tip-off Friday night at 7 p.m. at UConn, taking on the juggernaut that is Stony Brook University. Then on Sunday the Women look to continue their quest to surpass the UCLA unbeaten mark. They begin their title-defense against Holy Cross at 7 p.m.
JUST NOT A STEPCHILD: Drawing inspiration from everything from folk artists, to singer/songwriters and electronica, London-based La Roux, has created their own synth-pop style. Meaning "red-haired one" in French, La Roux is the project of flame-haired singer Elly Jackson and keyboardist/producer Ben Langmaid. The pair (who have reached number 2 on the U.K. charts) are playing tonight at the Webster in Hartford. Tickets are $20. The show starts at 7 p.m.
NOT ON THE ROCKS: Ready for an endless stream of holiday-themed events between now and the end of time? Back in 1996, a bunch of buddies at Indiana University got together and put together a men's a cappella group. Now, nearly 15-years later, Straight No Chaser is one of the hottest acts around. Thanks in large part to their classic, version of "The Twelve Days of Christmas" that went viral, the group has been packing in audiences. Sunday, you can see at the Oakdale in Wallingford. Tickets are $29-$51.70 (anyone else baffled as to how venues set their prices. Seriously, $51.70? Pick a round number please). The show starts at 7 p.m.
BOARD GAMES: Feeling a little bored this weekend? Head to in Southington for a little live board-game action (don't you love board/bored puns?). TD Homer's is hosting the 2010 Connecticut State Backgammon Championships Saturday. Expert players (how do you become a backgammon expert) will play 9-point matches to dertermine the winner of this year's state title. There's also a competition for chess players. Get there by noon to register.