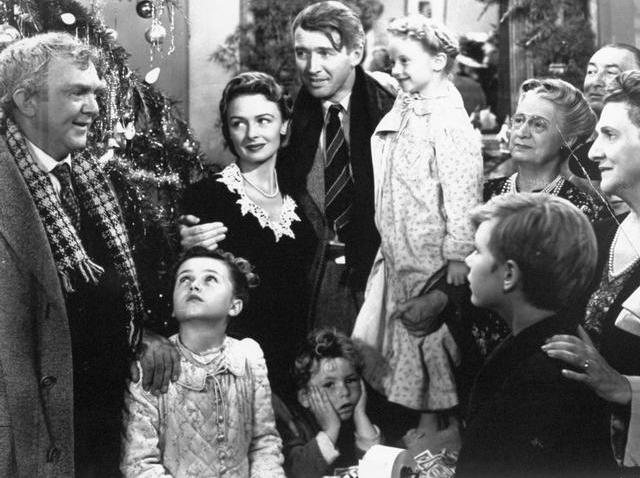 TOUGH NUTS TO CRACK: It just wouldn't be the holidays without a performance or two of the only ballet most people could name off the top of their heads. Yes, WYDT fans, it's time for The Nutcracker to return to the stage in Connecticut. Enjoy all the Sugar Plums, giant mice and, of course, the Nutcracker himself in the Christmas classic. At least two theaters have performances this weekend, just in time to get you into the spirit of the season. Head to the Shubert in New Haven (click here for show times and ticket prices) or make your way to Mohegan Saturday night at 7 p.m. or Sunday at 2 p.m. (tickets are $23-$33).
ANGELS ON THE RADIO: Another Christmas Classic is on stage this weekend, but not the way you think, is It's a Wonderful Life. It comes to life on Saturday in Westport as a Live Radio Play. Head to the Music Theatre of Connecticut to see an ensemble cast retell the story of idealistic George Bailey as he considers ending his life one fateful Christmas Eve. It's all done in the style of a live 1940s radio broadcast. Even Jimmy Stewart would be proud. Performances are at 2 p.m. and 8 p.m. Tickets are $40.
A CHRISTMAS STORY: All across the globe, church groups and local theaters are putting on their annual Christmas pageants. But you've never seen one quite like this. The Best Christmas Pageant Ever is showing Friday night at Playhouse on the Green in Bridgeport. The show tells the story of the six Herdman children, who are the terror of their town. And when they take over the annual pageant, no one is prepared for what's about to happen, since it seems none of the Herdmans know the story. But in the end -- Well, we shouldn't give away the ending, but suffice it to say, the true meaning of Christmas is revealed. There are performances om Friday and Saturday. Tickets are $20.
FEELING A LITTLE EMO-TIONAL: Ten years ago, Dashboard Confessional debuted on the indie music scene with their album Swiss Army Romance. Now, a decade of emotional, introspective, melodic music later, the band can still be heard playing in speakers in dark bedrooms all over. Friday night, Dashboard Confessional is celebrating the 10th anniversary of Swiss Army Romance with a concert at Toad's Place in New Haven. They'll be joined by special guests Good Old War, Cory Branan and John Lefler. Tickets are $28. The show starts at 7:30 p.m.
SORRY, BUT HIS NAME MAKES HIM SOUND LIKE A DOG: Seriously, what kind of name is Rufus Wainwright? Though I suppose it's better than Englebert. Either way, Mr. Wainright has been called the "greatest songwriter on the planet" by none other than Elton John. Wainwright is known for his witty, ironic songs, his prodigy-like talent on the piano and his one-of-a-kind voice. On Friday night, he's performing at the Jorgensen at UConn. Tickets are $34 to $45. The show starts at 8 p.m.
SHE JUST WANTS TO HAVE FUN: It's a double dose of everybody's favorite '80s pop diva. Cyndi Lauper was a hit machine in her hey-day and has turned that into a lasting career on both stage and screen, appearing in TV shows and movies as well as her music. On Saturday night, hear all your favorites, from "Girls Just Want to Have Fun," to "Time After Time" and "True Colors" as well as plenty of new songs from the album "Memphis Blues" when Cyndi Lauper takes the stage at the MGM Grand Theater at Foxwoods. Tickets for the 8 p.m. show are $30 to $50. Or, you can wait until Sunday night, when she hits the Palace at Waterbury. That show starts at 7:30 p.m. and will cost you $25 to $55.
FORMER PUNK: Put a little comedy into your weekend at Comix at Foxwoods. Steve Rannazzisi, currently playing Kevin on FX's hit show about fantasy football called "The League," will perform on Friday and Saturday night. Rannazzisi made his comedy bones at the renowned "Comedy Store" in L.A., before moving up in the world to work with "The Groundlings," and with Ashton Kutcher on "Punk'd." Since then, he's appeared an all sorts of TV shows and movies. Tickets to see Rannazzisi on stage are $25-$45. He has shows at 8 and 10 p.m. on Friday and 7:30 & 10 p.m. on Saturday.