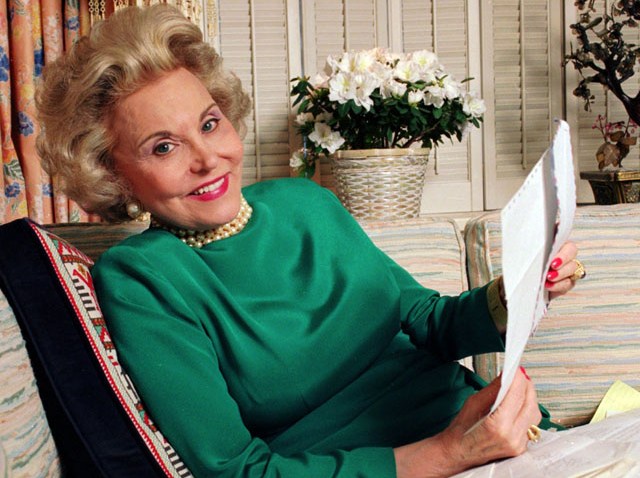 MEMORIAL DAY SHMEMORIAL DAY: Who needs fashion rules? Tonight, you're invited to dress in your best winter white and dance the night away at the Shrine Nightclub at the MGM Grand at Foxwoods. Stacie Hall (from MTV's hit reality show "The Hills") is hosting a white-hot party. DJ JD (ooh a palindrome!) provides the beats to get you on the dance floor. It's $20 to get in. Show's at 9 p.m.
DRAMATIC ADVICE: For years and years and years, Ann Landers answered just about every question put before her. From lovelorn teens, to confused couples, to those in need of sexual revolution or those who just needed to know the proper way to hang toilet paper (OVER!). Her advice column was must-reading for decades. Now, you can see the story behind the advice. "The Lady With All the Answers" is playing right now at TheaterWorks in Hartford. The show is a hilarious and touching glimpse at Ann Landers and the woman behind the keyboard. The show runs through March 7. Click here for ticket info and showtimes.
VIOLINS OF THE RISING SUN: For the past three decades, the Tokyo String Quartet has been a fixture at Yale University. The quartet is made up of musicians who are artists in residence at the School of Music. And each year, they put on a recital to showcase their skills. The Tokyo String Quartet is comprised of Martin Beaver and Kikuei Ikeda, on violins; Kazuhide Isomura, on viola; and Clive Greensmith, on cello. Tonight, they're featuring music from Haydn, Samuel Barber and some Beethoven thrown in for good measure. Tickets for tonight's show at Morse Recital Hall are $27-$34. Show's at 8 p.m.