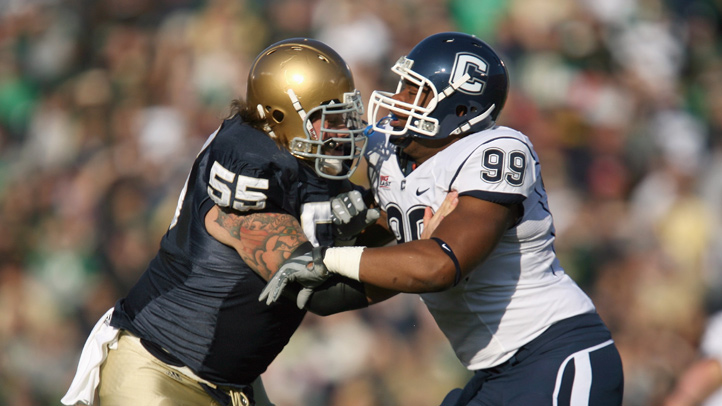 The UConn football season has been over for several months and the BCS National Championship Game was four weeks ago. And now, with the Giants' victory over the Patriots in Super Bowl XLVI on Sunday, football is officially over.

Okay, that's not completely true; football is never truly over. In college, there are recruits to land and in the NFL there are college players trying to impress their way onto rosters. UConn has three such players: receiver Kashif Moore, defensive tackle Kendall Reyes and kicker Dave Teggart.

Reyes is a lock to get drafted, and could go as high as the first round. Moore, an undersized receiver who relies more on quickness than speed, will have to really impress coaches and scouts in the coming weeks. And Teggart, who holds numerous UConn records, could also be looking to latch on as an undrafted free agent. Not because he's shouldn't get drafted but because most NFL teams choose to address other needs in the first first seven rounds and address the specialists afterwards.

More highlights for each player…

CBSSports.com draft analyst Rob Rang on Reyes at last month's Senior Bowl: "Physically speaking, the two couldn't be much different. Reyes, who measured in just a shade under 6-4 and 300 pounds lined up at the three-technnique and even was split out as a five-technique defensive end. His burst off the snap and quick hands made him a tough draw for even the most athletic and experienced of the North offensive linemen."

Moore also runs track, which certainly won't hurt him as he pursues his NFL dreams.

Teggart is first in career field goals at UConn, first in single-season field goals, first in single-season consecutive extra points, second in career extra points, and second in career points.