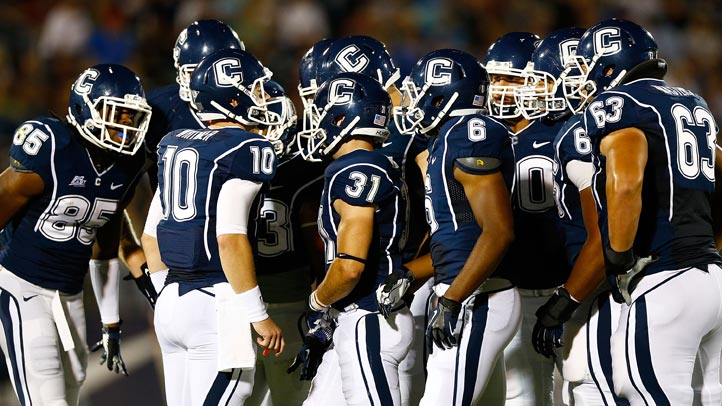 The Huskies lost a defensive battle to visiting NC State over the weekend. Here are the five biggest takeaways as the team prepares for Maryland on Saturday.

1. This defense is scary. The biggest concern on this side of the ball heading into the season? Would the Huskies be able overcome the loss of Kendall Reyes, who would eventually end up as the Chargers' second-round pick. Through two games the answer is a resounding "yes." Of course, it's one thing to dominate UMass, but NC State plays in the ACC. And save one long pass play that proved to be the difference, UConn's defense was smothering. Yawin Smallwood, Sio Moore and Trevardo Williams all were dominant, but defensive tackle Ryan Wirth deserves a name-check for his effort against the Wolfpack.

2. Chandler Whitmer is still raw. This isn't an indictment against the sophomore junior college transfer, just the reality of making the leap to FBS. He's the best quarterback on UConn's roster but he has a bad habit of staring down his receivers and its led to some predictably awful interceptions. That said, he's one of the toughest players on the field, willing to stand in the pocket and take a hit if it means the chance at completing a big play down field. But for this offense to improve -- and to consistently put points on the board -- Whitmer needs to look off defenders before committing to a receiver.

3. Get rid of the wildcat. It may have worked three or four years ago, but the scheme has run its course. Opponents seem to have it figured. Coach Paul Pasqualoni says the wildcat forces defenses to devote practice time to it. Fair enough, but UConn's offense is also devoting practice time to it, and that practice time might be better utilized (like, say, by getting Whitmer more touches). This doesn't mean that Scott McCummings should be benched, just that Pasqualoni and offensive coordinator George DeLeone need to find more effective ways to use him.

4. Playmakers have to show up every week. It's hard for Geremy Davis, Shakim Phillips and Mike Smith to get into a rhythm when Whitmer struggles, but this goes back to the coaches drawing up plays that highlight Whitmer's strengths and gets the ball into the hands of his best players. We saw this on the Huskies' only touchdown, a swing pass to Lyle McCombs. And there will be need to be more of that to a) mitigate the pass rush, b) open up holes for McCombs in the running game and c) create windows when the Huskies decide to throw downfield.

5. Reduce mental mistakes, turnovers. This is a tough one because it's not like players set out to false start, or drop an easy pass, or fumble at a critical juncture, but his is the difference between playing sub-.500 football and playing in a bowl game. Against NC State, Mike Smith dropped what seemed like an innocuous first-half pass on third down that would've moved the sticks. And in the scheme of things, maybe it didn't have an impact on the outcome. Then again, maybe the Huskies would've sustained the drive and eventually scored. You never know, that's the point. Later in the game, sure-handed caught a tough pass only to fumble it as he was tackled. Then there was Blidi Wreh-Wilson downing a punt just inside the end zone instead of just inside the five-yard line. Obviously, it wasn't intentional but it happened. The good news is that these things are easily correctable.