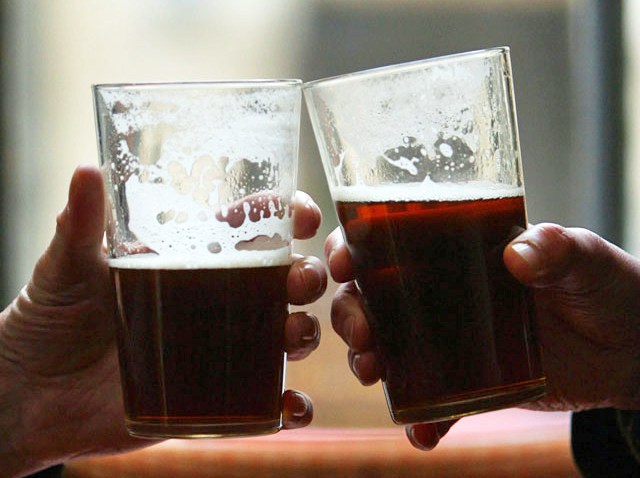 GGGGOOOOOOOAAAALLLLLLLLLLLLL!!!!!: Millions and millions of people from around the globe have been waiting for this weekend for four years. By the time you read this sentence, the World Cup has likely gotten underway in South Africa. The first match (they're called matches right?) of the Cup is South Africa vs. Mexico (Friday morning). The U.S. begins its quest for soccer glory Saturday afternoon against merry-old England. We suggest you find your favorite pub, park your keister and watch people in much better shape than you, play a game you could barely play as a kid. It's what I'll be doing.
EVERYBODY LOVES BRAD: It may be the only downside of the role of a lifetime. It happened to Orson Welles. And it happened to Brad Garrett. No matter how much success they've had before or after, they'll always be remembered for that one moment in time. As long as he's working, Brad Garrett will be the brother from Everybody Loves Raymond. But he was a success before the show (highlighted by some surprising voice over roles), and he's been just as popular since (highlighted by his hit sit-com "Til Death"). Friday night, you can see Garrett perform in his original medium. Check out his stand-up routine at the Performance Theater at MGM Grand. Tickets are $30-$50. The show starts at 8 p.m.
SOUNDS OF THE SEA: Sometimes the passage of time can be amazing. There's an event this weekend, that's actually older than most of the What You're Doing tonight staff. Head on down to Mystic Seaport this weekend for their 31st annual Sea Music Festival. The weekend features performances all weekend from maritime musicians celebrating the wooden whale ship Charles W. Morgan. Besides the international lineup, there will also be themed workshops and demonstrations aboard the Seaport's tall ships. Workshop and daytime concerts are included in regular Seaport Admission. Separate tickets are required for evening concerts. Click here for more info.
KING/JAMES: No, LeBron is not coming to Connecticut. Though wouldn't that be a coup for the state considering we don't have an NBA team. No, we're talking about two classic performers. Carole King and James Taylor are joining forces for a pair of shows at Mohegan Sun Arena this weekend. Friday and Saturday night, Taylor and King will reprise concerts they gave at the Troubadour in L.A. back in 2007 and 1970. Tickets for this weekend's shows are $95 and $75. The music begins at 7:30 p.m. on both nights.
STRAWBERRY FIELDS: Looking to combine food with your weekend fun? Head to Lyman Orchards in Middlefield for their 9th annual Strawberry Fest. Saturday's event showcases the quintessential fruit of the summer. Enjoy a scavenger hunt, pie-eating contests (for kids and adults), face painting (hopefully for kids and adults), wagon rides, pick-your-own strawberries and of course food samplings. There's even live music from the Monthei Brothers bluegrass band. The strawberry-flavored fun starts at 8 a.m.
DRINKING THEIR CRAFT: Beerthusiasts rejoice! Head to Martin Park in East Hartford Saturday for the Burnside Craft Brewers Festival. Over 60 breweries from around the world will be on hand for your enjoyment. Try the offerings of breweries like CT's own Olde Burnside Brewing, Dogfish Head, Allagash, New England Brewing and Sierra Nevada (to name a few). With your $30 price of entry you get to try 10 5-oz. samples and you even get your own commemorative tasting glass. There's also all sorts of live music in the offing as well. The Festival runs from 1 p.m.-11 p.m.
MILLER TIME: Classic rock's Steve Miller is making a trip to our fair state this weekend. With hits like "Take the Money and Run" and "The Joker," The Steve Miller Band is one of music's iconic groups. Enjoy Miller's blues/rock/singer/songwriter style Sunday night at the MGM Grand. Tickets are $40-$65. The show starts at 8 p.m.
WHERE'S LABAMBA?: Since the Tonight Show host fiasco, we haven't heard all that much about Max Weinberg. The E Street Band drummer and bandleader for two Conan O'Brien late-night shows is, of course, keeping plenty busy. This weekend, Max is bringing his Big Band to Mohegan's Wolf Den for a free show. The 15-piece band pulls their influences from the likes of Sinatra, Count Basie, Buddy Rich and Doc Severinsen to name a few. Sunday's show is at 7 p.m.