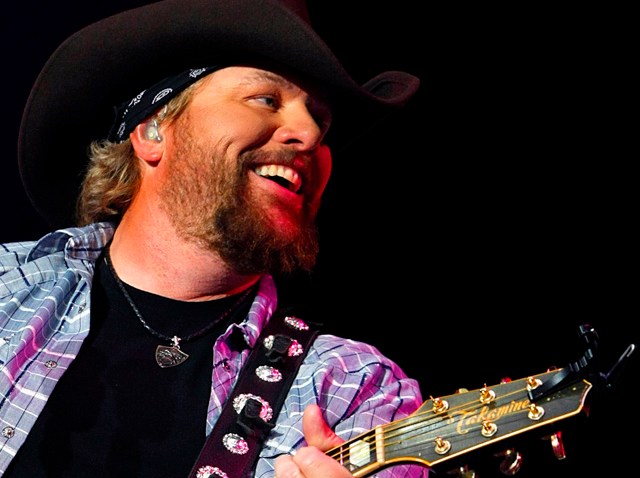 RIDE TO THE COUNTRY: Throw on your boots and hat and head out to Hartford Friday night. Country music mega-star Toby Keith is hitting the stage at the Comcast Theatre. Keith's behind hit record after hit record, and you can hear some of your favorites like "Should've Been a Cowboy," and some new songs from his upcoming album "Bullets in the Gun." Joining Keith on his American Ride Tour is Trace Adkins. Tickets are $38.25-$74.25. The show starts at 8 p.m.
ARE YOU THE WALRUS: The Warner Theatre in Torrington will be packed to the rafters with Fab Four Fanatics Friday night. Abbey Road, the complete Beatles Tribute show will help you relive some of your favorite moments from the glory days. The show is filled with great costumes and even better music. In fact, they were voted "Best Tribute Band" by the Hartford Advocate. Head down memory lane for just $29.50. The show starts at 8 p.m.
DAY TRIPPER: See what I did there? I used a Beatles song to introduce our next event. It's what we in the business call a segue. Anywho... You can take a trip to Asia this weekend, withouth having to get a passport, book a flight (and pay all those hidden fees) or even leaving Connecticut. Head to Trinity on Main in New Britain Saturday for the Asian Mid-Autumn Festival Gala. The festival features the customs (singing, dancing, costumes and martial arts) of places like Mongola, Korea, India, China and even Hawaii. Tickets are just $10. The show starts at 6 p.m.
PARTICLE MEN: They might be the kings of art/alternative rock. They Might Be Giants has been making some of the quirkiest music in music for years. They've hit the mainstream with tunes like "Istanbul (Not Constantinople)," and "Particle Man" (though I suppose real fans will know far more about their catalog). They've even won a Grammy for "Best Children's Album. Saturday night, they take the stage at the Wolf Den at Mohegan for a free show. The tunes kick off at 8 p.m.
WINDING ROADS: Since she exploded onto the scene with her multi-platinum album "Tuesday Night Music Club," Sheryl Crow has been one of the first ladies of music. Saturday night, Crow is bringing her decade-plus worth of experience (including Grammy after Grammy) and giving it all to you, when she hits the stage at the MGM Grand at Foxwoods (did we oversell it?). Tickets for the show (which also features singer/songwriter Brandi Carlile) are $55-$75.
COMEDY NIGHT DONE RIGHT: Where do the best comics in the world come from? L.A.? Canada? France? Perhaps Australia. Jim Dailakis would probably answer the latter. Dailakis hails from Perth, but since coming to New York City for a three-month stand-up comedy tour, he's become a fixture in the U.S. He's appeared all over the television and at some of the best comedy clubs in the country. This weekend, you can check him out at City Steam in Hartford. Jim will take the stage Friday at 8 p.m. and Saturday at 7 p.m. and 10pm. Tickets are $10-$15.
PUTTING A SPIN ON IT: He hit it big back in the '90s with the Spin Doctors. With hits like "Two Princes," Chris Barron and his band seemed poised for greatness. But while they never quite reached the same level of success again, that doesn't mean the music stopped. Sunday night head to Infinity Hall in Norfolk to see what Barron's been up to lately. "Songs From The Summer of Sangria" is a song-oriented mixture of American musical forms that showcase the beauty, versatility, subtlety and raw emotional power of his memorable voice. Tickets for the 8pm show are $20-$30.