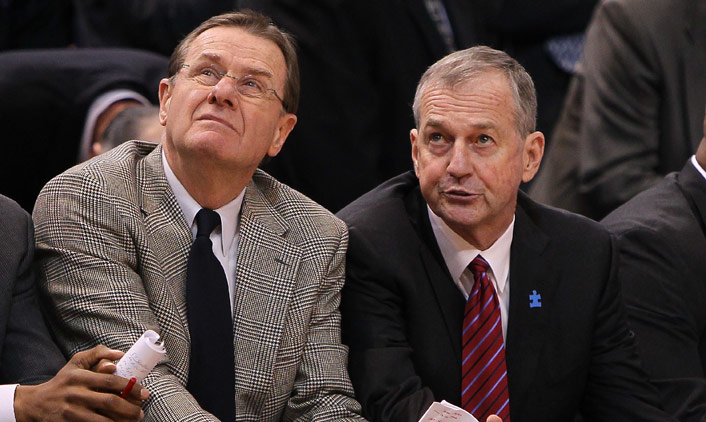 We mentioned on Monday that any wins (or losses) that the Huskies get during Jim Calhoun's three-game suspension would go on his record even though interim coach George Blaney was serving as the team's coach in Calhoun's absence.

ESPN's Andy Katz noted as much during Saturday's St. John's game. He had received an email from the NCAA earlier in the day saying that, ultimately Calhoun's record would reflect how the Huskies played in these three games, even though he was watching on his couch like the rest of us.

In Monday's Hartford Courant, Dom Amore wrote that the decision to credit Calhoun isn't yet "official."
UConn is still waiting for an official ruling from the NCAA on whether the games played during Jim Calhoun's suspension are to count on Calhoun's record, or Blaney's. They don't expect one until Tuesday, when NCAA officies open up after the holiday. During Calhoun's absences-due-to-illness, the wins and losses counted on his record, but a suspension could be considered a different case.

The most likely scenario, the NCAA could tell UConn to use its own discretion, in which case the games would be added to Calhoun's ledger.
UConn faces Seton Hall on Tuesday at 7 p.m. ET and Blaney has been stressing the importance of body language and energy to his players leading up to the game.

"I tell Ryan Boatright all the time," Blaney said (via the Courant), "when you step out onto the floor, that guy sitting up in section 326 has to know you're happy to be there.' He laughs. It doesn't matter what your personality is, or what troubles you may be having, you have to show the coaches, refs, the other players that you're ready to play. Every player needs to do that."

Jeremy Lamb, quite possibly the most laid back player in college basketball, knows all too well the importance of playing with energy.

"That's something I always have to tell myself when I go out there. I say, 'Jeremy, you got to go out with energy.' Because if I don't do that, I'd just be, you know, chill. What I try to do in [warm-ups], dunk the ball, it gets teammates fired up. Little things like that."

It's also an easy way to take the other team -- and their fans -- out of the game.

UConn will stay in Newark after the Seton Hall game, have a day of inter-session class on Wednesday when Calhoun will rejoin them in preparation for Rutgers. Amore writes that it's not known if the team will make its way to Madison Square Garden Wednesday night to see the Knicks host Kemba Walker and the Bobcats.