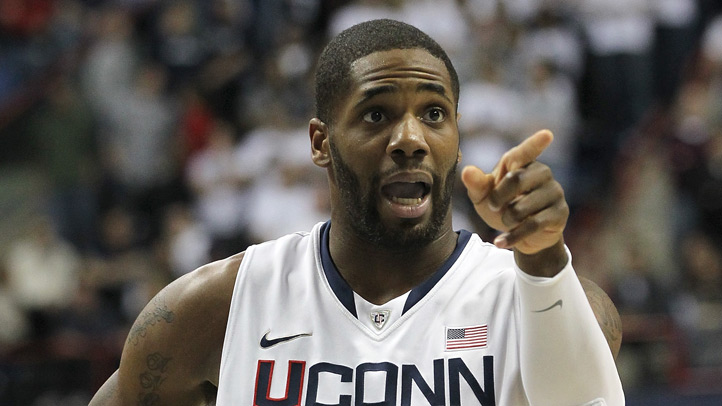 Alex Oriakhi is transferring to Missouri.
The school announced the news on Friday and now Oriakhi officially joins Jeremy Lamb and Andre Drummond as key contributors to the 2011-12 UConn team that will be playing elsewhere in 2012-13.
Lamb and Drummond are headed for the NBA and Oriakhi will join the Tigers in the SEC.

"We're very excited to add a talented and proven player like Alex to our program," Missouri coach Frank Haith said in a statement released by the school.
"Addressing our front court depth has been a major emphasis of ours for this next year, and when you add Alex to a group of newcomers including Stefan Jankovic, Ryan Rosburg and Tony Criswell, we are definitely heading the right direction. Alex is a very hard worker, he's somebody who we expect to fit into our program's culture right away. He will do whatever he's asked to help the team, and he can impact a game any number of ways, whether it's scoring, rebounding or defending," Haith said.

Oriakhi, who averaged just 6.7 points, 4.8 rebounds and 1.3 blocks in 21.5 minutes per game as a junior, was in high demand once UConn released him from his scholarship.
In addition to Missouri, Xavier, Duke, Kentucky and North Carolina were interested in the 6-9, 240-pounder forward. But Oriakhi had ties to Missouri -- he's known Tigers guard Phil Pressey since eighth grade -- and he said last week that he was "counting the days" until his on-campus visit.

"As soon as he heard I was transferring, he was like 'Come play with me,'" Oriakhi said, via the Kansas City Star. "[Pressey], that's my guy ... We talk just about everyday, to be honest, and that's how we've always been. He was on the phone with me for an hour and a half (Monday) night."

And the fit is perfect.
"I'm looking for a team that not only wants me, but needs me," Oriakhi told the Star last week. "I'm looking for a team that's lacking in the frontcourt and needs a big man."
The biggest obstacle to Oriakhi heading to the SEC -- that the conference doesn't allow one-year transfers without a special exemption -- shouldn't be an issue.
Last week, CBSSports.com's Jeff Goodman, tweeted that "I've been told that Oriakhi will be able to play at (a) SEC school if he chooses an area of study that is not offered at UConn."
Meanwhile, the dismantling of the Huskies continues.
Backup Michael Bradley announced on Friday that he was leaving the program.