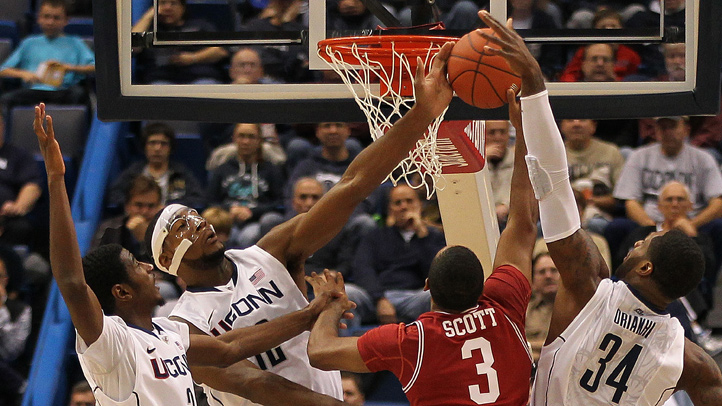 Andre Drummond is, without question, the best walk-on in the country. Highly recruited coming out of high school last spring, Drummond arrived in Storrs on redshirt freshman Michael Bradley's scholarship.

Bradley willingly gave up his free ride in September because the Huskies were a few short due to a combination of NCAA sanctions and academic underperforming. The move raised concerns that Bradley had been taken advantage of -- or worse -- forced into the decision. He assured everyone that the choice was his, and Drummond didn't forget the gesture.

On Tuesday, reports surfaced that Drummond was now attending UConn as a non-scholarship player this season. UConn spokesman Kyle Muncy, via TheDay.com, said the school learned later in the semester that "a recruited player can pay his own way as long as all aid received is non-institutional." And that, according to Muncy, is the case with Drummond.

Apparently, Drummond's family insisted that he pay his own way and he became a walk-on in November.

"I'm thankful for what Mike was trying to do for me," Drummond said Tuesday. "I told Mike, 'Don't do that, man. I'll pay my way and take a scholarship next year. You don't have to give up a scholarship for me.' It was my decision. That's not fair to him. He worked hard to get that scholarship. I'm not going to take something from somebody that's not mine. It was my decision to come late."

The experience says a lot about Bradley and Drummond. The former is a redshirt who was vying for playing this season and instead opted to put the team above himself; the latter will one day earn a living in the NBA. It's almost impossible to think a blue-chip prospect wouldn't be on scholarship -- or more preposterous -- might consider paying his own way because it's the right thing to do.

Of course, this wouldn't even be an issue if the NCAA hadn't reduced UConn's scholarships by three for recruiting violations and poor APR scores. As part of the punishment for the former, Calhoun will serve a three-game suspension when the Huskies begin Big East play on December 28 against UCF. Contingency plans for that eventuality have been in the works for some time, and they include Calhoun staying in Connecticut when the team travels to Tampa.

"I made that decision before because you've got to start off with somebody running the team and make sure they have a practice and some time down there with the kids," he said, via TheDay.com. "I'm more concerned with Fairfield right now."

Yet to be decided (at least publicly): who will serve as the head coach in Calhoun's absence. We've speculated previously that assistant Kevin Ollie could get the nod (he appears next in line to replace Calhoun when he eventually retires), even though George Blaney has served capably in the interim head coaching role over the years.