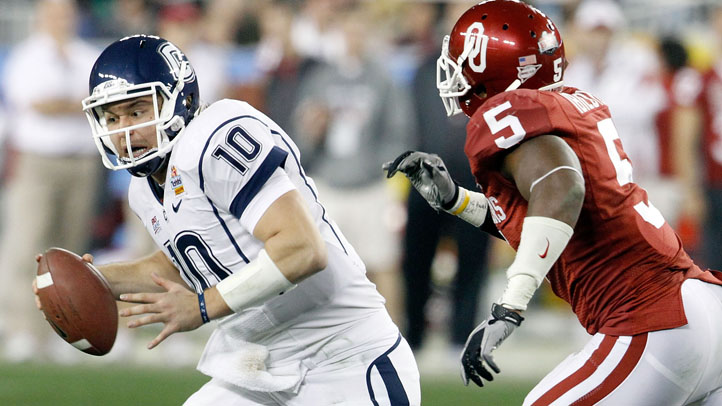 Several practices into training camp and there are no new developments in the race for the UConn starting quarterback job. But this isn't surprising since head coach Paul Pasqualoni has been preaching for months that he'll take however long he needs to determine which of four candidates has earned the gig.

"They're all doing good things," Pasqualoni said on Friday, according to TheDay.com. "They're all having a positive camp thus far. That's a good problem to have right now. They're all competing. Each day, each practice that we've had, each of them has been able to be productive. I hope it continues as we work through this."

The contenders: redshirt sophomore Mike Box, redshirt freshman Scott McCummings, redshirt junior Johnny McEntee and true freshman Mike Nebrich.

Box has the most experience with a grand total of one start vs. Louisville last year in a forgettable effort; McEntee is best known for his off-season trick-shot video; McCummings is the most intriguing prospect; and Nebrich is probably considered the longest shot since he's a true freshman.

TheDay.com reports that "Box and McCummings shared most of the reps with the first-team offense on Saturday, but all four got snaps. Box and McEntee showed the most arm strength, while McCummings and Nebrich offer more athleticism and versatility."

We wrote in April, days before the Blue-White Game that, given the new coaching staff and uncertainty in the offensive backfield, a dual-threat (passing and running) QB could best serve UConn's purposes, at least in the short-term. To that end, the Hartford Courant's Desmond Conner writes in his weekend practice notes column that "… McCummings and … Nebrich looked really good running some of the option stuff."

McCummings seems best suited for the role but as Pasqualoni has stressed, the job's wide open.

Offensive coordinator George DeLeone, Pasqualoni's secret weapon, plans to build the offense around the QB, not the other way around.

"We don't have the luxury, as the Miami Dolphins do, of getting a free agent. We don't have the luxury of getting a trade," he said. "Our job is to make this group the best offense they can be. That's what we're charged with. We want to build an offense where the quarterback doesn't have to make every play. The best offenses I've been around, the quarterback just has to do his job. We hope the quarterback can just function within the system."

Now it's just a matter of deciding who that will be.