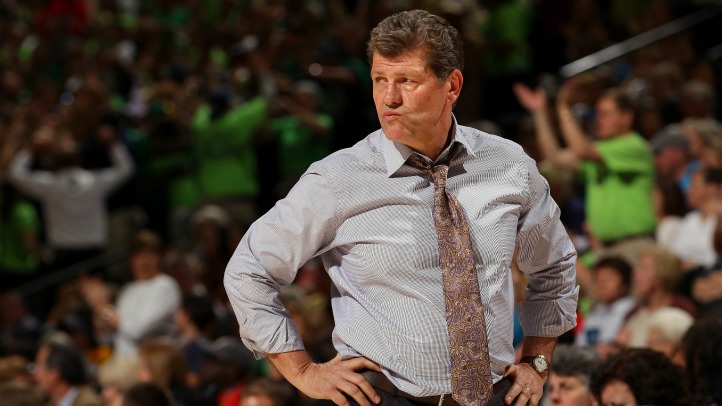 Good news: Geno Auriemma signed a five-year extension last week to remain the Huskies basketball coach.

Bad, somewhat related news: New Mexico men's coach Steve Alford signed a 10-year extension only to leave for the UCLA job days later.

Great news: Auriemma ain't going anywhere because, in his words, "Steve Alford hadn't been at New Mexico for 28 years."

Apparently, Auriemma had an offer to replace Jim Foster at Ohio State but opted to stay put because, well, he's got a pretty good thing going on in Storrs.

"But early on in my career, if someone had come along and said, 'Hey, I've got this great offer for you at a larger school with more resources,' I might have gone," Auriemma said via the Hartford Courant. "I might have decided it would be better for me [to leave].

"Even after going to the Final Four for the first time in 1991 and winning the national championship in 1995, there weren't a whole lot of options for me. There weren't people knocking my door down to coach their programs.

"I guess I am lucky that I just got stuck at Connecticut to win all these championships and making all this money. And I am still mad about it."

Nothing like a little revenge and a lot of loyalty to motivate you to greatness.

"It's funny, Auriemma continued. "When you are young and do not have roots tied to a community, it's easy to pick up and go. You build a program and four or five years later, you go some place else.

"Had that opportunity risen, there is no way I would not have gone. There was no way I could envision in 1991 that this would have ever happened [at UConn].

"But it's impossible to make a move, especially at this part of my life, unless there is something you really don't like about where you are or there is something somewhere else you find impossible to resist. That never came up for me. My chances came later in my life and by that point, I had no interest in them."

Back in 2006, Auriemma had been linked to Oklahoma's men's job before going on to win two more national titles with UConn. Assuming Auriemma ever does retire, the early favorite to replace him is former player Jen Rizzotti, now the coach at Hartford.