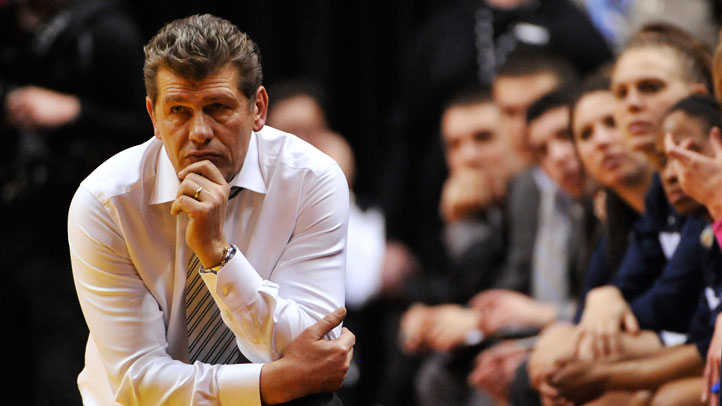 The third-ranked Huskies have now won two in a row after dropping a conference game to Notre Dame on Jan. 7, their latest coming against Villanova.

Tiffany Hayes, the only senior on the team, scored 22 points as she continues to find a rhythm.

"She has worked really hard for the last week and it shows," coach Geno Auriemma said, according to the Hartford Courant's John Altavilla. She's just so talented, she can do so many things that we are always disappointed when she doesn't do all she is capable of. But she is in a pretty good place right now."

Not in a good place basketball-wise? Freshman Kiah Stokes, part of one of the country's best recruiting class that included Kaleena Mosqueda-Lewis and Brianna Banks. Here's what Auriemma said on Saturday after the game when he was asked why Stokes didn't see the floor against Villanova.

"She's frustrating,'' the coach said. "She's frustrating. She's frustrating. She's just frustrating. That's the only thing I can tell you. She's just frustrating because she's really, really good. I'm trying to instill what it takes to play at this level. And I don't want to reward mediocre or even less of an effort or [just] doing what I did in high school. `This is what I did in high school, Coach, and it worked.'

"Well, it doesn't work here. And you're too good, you're too talented and you have too much potential. And we're going to find out how bad you want this. And I think she does.''

Doesn't leave much room for interpretation does it?

But Auriemma doesn't say things without first thinking them through. He's crazy like a fox like that and while the message might seem harsh, the reality is that he's planting a seed for later this season. He knows he'll need Stokes. As long as she's on the bench she's helping the opponents and that's it.

As it stands, Stokes has appeared in 14 of 16 games, and is averaging 12.1 minutes, 4.0 points and 3.7 rebounds. With center Stefanie Dolson still looking to find her stride and Heather Buck relegated to backup duty, Auriemma needs Stokes to step up. Given that he's as much psychologist as basketball coach, we're guessing she will. The only question is when.