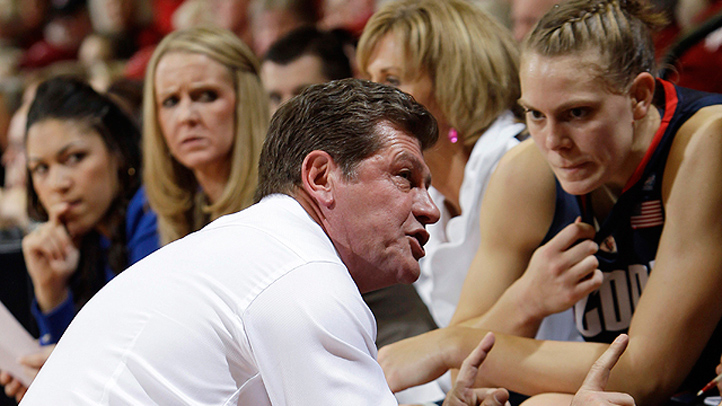 If familiarity breeds contempt, so too does winning. Just ask the Duke men's basketball team. Whenever they play outside of Cameron Indoor Stadium, they are roundly booed, because, frankly, year in and year out, they are always in the national championship conversation. Coach Mike Krzyzewski has an 827-225 record at Duke and that includes 11 Final Four appearances and four national titles.
It seems that people who aren't Duke fans get tired of that.

Surely Geno Auriemma can relate. He has amassed a 770-123 record since 1985, and his Huskies have won seven national championships, including the last two. When he was asked during his Monday news conferences about people rooting for UConn to lose, Auriemma offered this:

"It's almost like, at some point I expected Howard Cosell to come into my ear yelling 'Down Goes UConn!' I guess it's the story everyone wanted to see. There's something to be said that people are fascinated by a team that almost never loses. But since we are winning all the time, people are attracted to the upset. It's tough, because we beat everyone by 40, people won't watch and say there is no competition, then if we are on the verge of losing, everyone wants to watch because everyone wants to revel in the fact that we lost."

As I wrote earlier, is with some irony that the Huskies are facing the Blue Devils on Tuesday for the right to go to the Final Four. But unlike the men's bracket, there are few upsets on the women's side. (The top-seeded Duke men's team, for example, was knocked out of the NCAAs by No. 5 Arizona in the Sweet 16.) Some of that has to do with the annual disparity in talent between the handful of top teams and everyone else. Either way, it also means that, as Auriemma points out, you have to beat the best teams to advance in the tournament's later stages.

"[Upsets don't] happen much in women's basketball," Auriemma said during his news conference. "Some people say it's not as exciting because there are no upsets, but the fact that there are no upsets means you always have to beat the best teams in the country in an Elite 8, a Final Four, in a championship game."

As to women's basketball not being as exciting as the men's (because of the lack of upsets or otherwise), here's some encouraging news: according to the Hartford Courant's John Altavilla, Sunday's Georgetown-UConn Sweet 16 game earned a 1.2 overnight rating, the highest on ESPN or ESPN2 for a women's NCAA Championship game through the regional semifinals, dating to 2000.
So, yes, Auriemma might not always be pleased with the Gampel Pavilion turnout, but there's no denying that the Huskies have a huge following. Even if that means following the team on television.