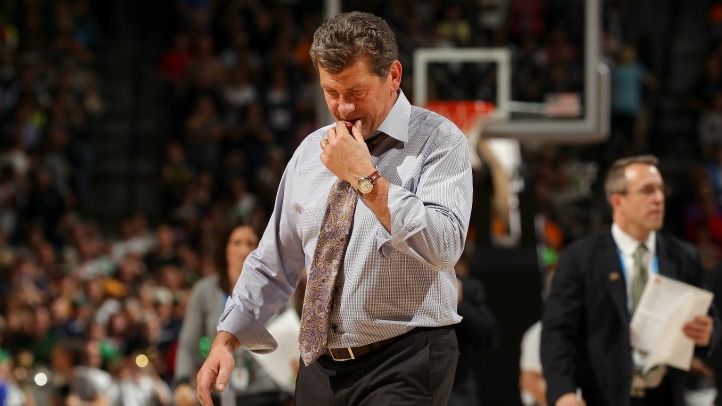 The Huskies led the top-ranked Bears by nine points with three and a half minutes to go in the first half and made the best player in the country, 6-8 center Brittney Griner, a non-factor. Everything changed over the final 20 minutes, Baylor outplayed UConn, and escaped with a 76-70 victory.

An hour after the final whistle, Auriemma finally made it to the interview room where he explained that his team wasn't smart enough to beat Baylor.

"I think we were in control of the game the whole first half, until the last three minutes. It just goes to show you, against a really good team, when mentally you make a couple of mistakes, how quickly the game can change," Auriemma said via the Hartford Courant's John Altavilla. "As well as we played defensively, and executed defensively, it should have been a 15-point game in the first half instead of a three-point game [UConn led, 29-26].

"I don't know that the last three minutes of the first half was the deciding factor of the game, but I think it was indicative of things that happened at various points in the game."

A telling statistic: Baylor shot 27 percent from the field in the first half (vs. UConn's 38 percent), but warmed up to 61 percent in the second half (vs. UConn's 53 percent). And Griner, who was held to four points in the first 20 minutes, ended the night with 25.

"You're not going to be able to guard Brittney Griner by yourself for 40 minutes," Auriemma continued. "In the first half, Stefanie [Dolson] guarded her with a lot of help from others. In the second half, she didn't get help from anyone. Everything we did right in the first half, we didn't do right in the second half. I thought Stefanie was phenomenal."

The good news, of course, is that the Huskies are still one of the nation's best teams, and are hitting their stride as the Big East and NCAA Tournaments approach.