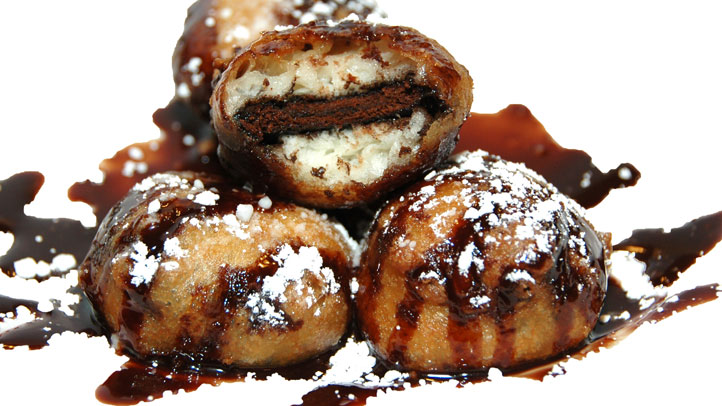 Bathing suit season is not the only reason to be cutting calories this time of year. Another is to save up if you plan on trying any of the incredibly indulgent food at the Big E.

One of the new food additions is Deep Fried Samoas.

The already rich-tasting Girl Scout cookie comes out of the fryer all gooey with chocolate and coconut goodness. If you're already mapping out your food journey, plan to stop at The Coffee Break in the food court for one of these.

Food vendors at fairs can fry up just about everything.

The Big E runs from Sept. 14 through Sept. 30. This year, the selection includes Fried Shepherd's Pie, Fried Snickers, Fried Kool-Aid, Fried Jelly Beans, Fried Whoopie Pies, Fried Almond Joy, Fried Chocolate Chip Cookie Dough Bits and Frozen Hot Chocolate.
The Big E is also adding a taste of France, with sweet and savory crepes. Indulge in one stuffed with sweet cream, strawberries and chocolate, or bit into one with turkey and ham. You can also enjoy buttery croissants and other assorted French pastries at La Petite France Bakery in the Young Building.

The Ultimate BBQ in the Food Court will be serving pulled pork and chocolate covered bacon.

Popular treats served year after year are the Big E Cream Puff and the Big Éclair, sold at the Cream Puff Bakery in the New England Center and at the food court.

Only the gastronomically bold are brave enough for the Big E Craz-E Burger, a bacon cheeseburger placed between two halves of a grilled glazed donut. This cholesterol buster been a staple at the Big E since 2009 and you can get one at The Big EZ Café on New England Avenue.

Since we're on the topic of food, the Big E is celebrating the 250th birthday of the sandwich with 250 sandwiches at this year's Big E.

Two of the more unusual sandwiches you'll find at the Big E are fried peanut butter and jelly and fried peanut butter and banana.

For those planning to eat a lot, you might want to purchase advanced discount food vouchers.

It will cost you $8 for $10 worth of food coupons.

They are available at TheBigE.com and The Big E Box Office through Sept. 12 and are good at all Big E food concessions, including Storrowton Tavern.

However, they are not valid for the purchase of alcoholic beverages or for use in the Avenue of States buildings.

When the Big E begins, we want your food photos. Send them to photos@nbcconnecticut.com.