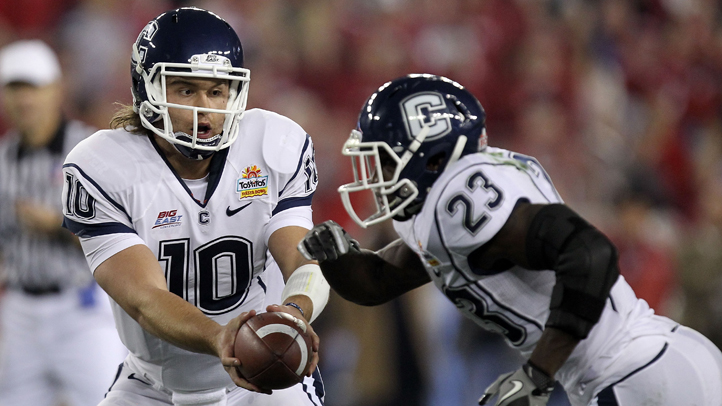 There are plenty of uncertainties for UConn football coach Paul Pasqualoni, but that's why there's spring practice. Still, between now and September 1, when the Huskies host Fordham in the 2011 season opener, much must be settled.

Most people would point to quarterback as the biggest question mark. Zach Frazer is gone and four contenders are vying for the job. Michael Box, the most seasoned of the bunch, has just one career start and it was forgettable. Michael Nebrich, Johnny McEntee and Scott McCummings round out the list of successors.

And while depth at running back took a hit when Jordan Todman left for the NFL and Robbie Frey transferred, it's hard to make the case that the backfield is UConn's biggest weakness. But ESPN's Brian Bennett did just that (although, to his credit, he conceded that it came down to RB or QB), writing:

"The only guys this spring available at running back are [DJ] Shoemate, the USC transfer who quickly took up residence in former coach Randy Edsall's doghouse last year for fumbling, and [Martin] Hyppolite, who has all of three career carries. Shoemate will try to establish himself as an every-down tailback with the new regime. Lyle McCombs could help if/when his suspension is lifted, as could Jonathan Jean-Louis when he recovers from injury. Other than that, the Huskies will have to wait until this summer for reinforcements."

A UConn fan rightly pointed out that quarterback "is a complete unknown," and that it's "the position that would keep me awake at night going into next year."

That's the thing: it's seldom the case that a team fails to meet its goals because of unspectacular play from the running backs. In high school, yes, a dominant back can carry a team to the playoffs. All the quarterback has to do is take the snap, turn around, give it to the workhorse, and repeat 25-30 times a game. That works in big-time college football during the creme-puff portion of the schedule usually reserved for the first two weeks of the season. After that, flaws are exposed and it usually makes for a long fall (both seasonally and figuratively).

Teams with solid quarterback play can get by with mediocre running backs. That's not to say the running game isn't important, just that it's much easier to replace a top-flight runner (either with another star-in-waiting or a backs-by-committee approach) than it is to find a quarterback who can run the offense. Seasons have been won and lost on the health of the QB, and for a microcosm of that just look back to last year's Louisville game. Box started, completed just 4 of 12 passes for 35 yards (including an interception), and the Huskies lost 26-0.

In the end, Bennett writes that "…if the offensive line stays strong, UConn will be able to run the ball. On the flip side, the Huskies won the Big East last year without much production from the quarterback spot."

All else equal, give me a good quarterback and a few average running backs. Because the opposite seldom works for any extended period at the Division I level.