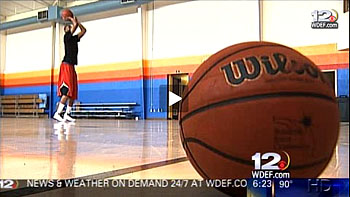 Michael Bradley was one of five players to leave the UConn basketball team this spring. Two -- Jeremy Lamb and Andre Drummond -- were off to the NBA and the three others -- Alex Oriakhi, Roscoe Smith and Bradley -- transferred out of the program for reasons varying from impending NCAA sanctions, playing time and to move closer to an ailing relative.

Over the weekend, CBSSports.com's Jeff Borzello tweeted that the NCAA had denied Bradley's hardship waiver, which means that he'll be forced to sit out the 2012-13 season before suiting up for Western Kentucky. Bradley had transferred to WKU in part to be close to his grandmother, who lives in Tennessee and has reportedly been diagnosed with cancer. As CollegeBasketballTalk.com's Daniel Martin notes, "This denial stands in contrast to the waiver granted to Central Michigan transfer Trey Zeigler, whose father was fired from CMU and the younger Zeigler can now play immediately at Pittsburgh."

And then there are Bradley's former teammates who are also hoping to play next season with new teams. Oriakhi is now a Missouri Tiger and Smith transferred to UNLV. The former will almost certainly play for the Tigers in 2012-13 while Smith's fate is less certain. Details via ESPN.com's Andy Katz:

"UNLV is seeking a waiver for Smith to play immediately after transferring from UConn. The problem is that Smith is going to be a junior and the rule clearly states that a player can be eligible immediately only if a postseason ban is the length of his remaining eligibility. UConn's ban is only one year. That's why rising senior Alex Oriakhi of UConn could play at Missouri without sitting out. UConn officials are watching what the NCAA does with Smith's case closely, and, according to a source, aren't happy that it's even being broached.

"A source said that giving Smith a waiver would open the floodgates to allow other players to leave immediately. … (I)f Smith is granted a waiver then it would essentially be a new way to implement the rule. The Runnin' Rebels are making the case that Smith won't get a chance to play in the postseason if he stayed. But the source said the postseason isn't guaranteed so a waiver based on this case makes no sense to the Huskies."

UConn's concerns regarding Smith make sense. Less clear: why the NCAA denied Bradley's hardship waiver.