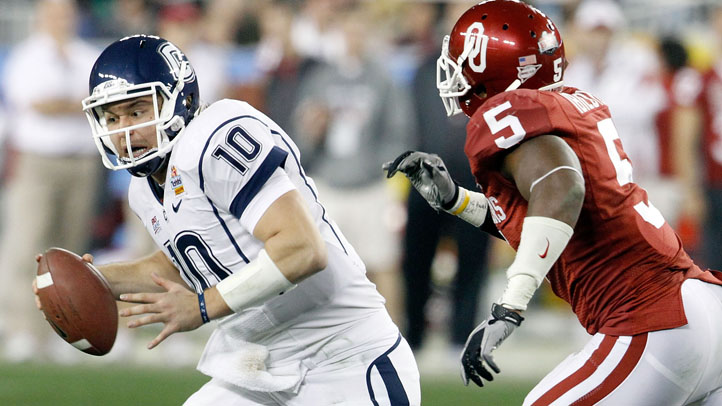 In general, $1.8 million is a lot of money. If we're talking about the national debt, sure, it's a drop in the bucket. But for the University of Connecticut, a state school, it's troubling to hear that it lost $1.8 million when the football team appeared in the 2011 Fiesta Bowl.

The Daily Campus, UConn's student newspaper, first reported the news and the fallout has been predictable: supporters, fans and taxpayers are equal parts mad and confused. How can you lose money when the Fiesta Bowl forked over $17 million earlier this year to the Big East and Big 12, $2.5 million of which made it's way back to UConn?

For starters, the game was played in Glendale, Arizona, 2,600 miles from Storrs. Consequently, there weren't as many UConn fans in attendance as there might have been if the game was played in, say, the Orange Bowl.

More than that, though, the university had to make up the difference between the number of tickets it had available for the game for and those it sold. The final tally: 2,771 of 17,500 were sold, which meant that UConn had to cough up more than $2.9 million for the remaining 14,729 unsold tickets.

But here's the thing: the university sold these tickets well above market value because they bought them from the bowl at -- you guessed it -- well above market value.

According Matt Hinton, who runs Dr. Saturday, Yahoo.com's college football blog, "In UConn's case, Fiesta Bowl tickets started at $111 for some of the worst seats in the house, four or five times the going rate for similar seats on online ticket sites like StubHub. The loyalists who bought 2,771 tickets through the university were basically making a small donation to the athletic department, and most of them probably wouldn't have if they'd realized the seats could be had for much cheaper."

And this isn't the first time a team has gone to a big-time bowl game only to see the university come out in the red.

But it's not all bad (although convincing taxpayers otherwise might be difficult). Mike Enright, associate director of athletics/communications, told the Connecticut Post that while the numbers were disappointing, "They are what we expected, they are what we were telling people beforehand. Long term, this is not a story that can be summarized on a spreadsheet."

Enright also pointed to other benefits, realized later, that are a function of appearing in a BCS bowl: improved recruiting, increased admissions, and higher ticket sales and donations.

The Post also reports that UConn will receive $3.8 million from the Big East later this year as "each football-playing school in the league will receive that amount as its cut from bowl and television revenue."
So, no, it's not ideal. But it could also be a lot worse.