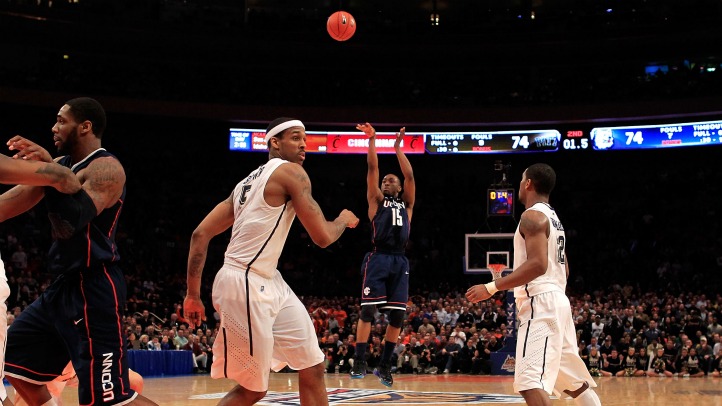 "Guarded by Wanamaker with 10 seconds to go, Coombs-McDaniel on the screen…"
And that little game of cat and mouse, devised in each team's huddle during the timeout just moments before, would prove to be the difference.

Coach Jim Calhoun said after UConn's quarterfinal win over Georgetown that he "knew Pitt very well" and the familiarity paid off on Thursday. With the scored tied 74-74 and 18 seconds on the clock, Calhoun drew up a play to create a mismatch that would put a bigger, slower Pittsburgh defender on Walker, who would be at the top of the key with plenty of time and even more space to operate.

"[Walker] made a [play] we'd been working on," Calhoun said. "We'd seen other teams do the same type of thing [against the Panthers]. … He'd made two threes yesterday, [one three] the day before, so [Pitt] had to honor that," Calhoun said. "They had to play the shooter and try to play Kemba with the big, and we thought the advantage was to us."

And clearly it was.



This finish stood in stark contrast to the Huskies' regular-season finale against Notre Dame. Trailing 70-67 with seconds on the clock, Calhoun again designed a play for Walker. Just like Thursday's Big East Tourney finish against, everybody in the building knew it. The difference: the Fighting Irish defense collapsed on Walker forcing to pass the ball, and time expired before UConn could even get off a shot.

That didn't happen against Pitt.

"The best player," Calhoun began, "made a big-time shot we had been working on, seen other teams do the same type of thing, only giving them a hard screen at the top with McGhee and have the other guys separate for a jump shot. So we had both options. Jamal [Coombs-McDaniel] separated for a jump shot so we had both options. But there wasn't any doubt in my mind which shot was going to be taken. Kemba has made a ton of big shots this year. He's the most important guy for a single team in college basketball."

Unanimous conference first-team selections and national player of the year honors aside, that last point -- that Walker is the most important guy for a single team in college basketball -- can't be stressed enough. And, frankly, given what Walker has meant to his team all season, it's almost impossible to argue.

As for what was going through Walker's mind when he had the ball in his hands with only seconds on the clock -- well, it's about what you would expect. "I was going to go to the basket on him," he said. "I was going to penetrate and get a layup or get a [shot] for a teammate, but [Pitt center Gary McGhee] fell so I was able to get a clean look at the rim. So I took my shot."

And that's pretty much how it looked for McGhee, who was on the business end of a Walker game-winner. "He made a great move, a speed dribble to the left. I thought he was going to the basket. He made a step back, I stumbled, and he knocked down a jump shot to end the Big East championship run we could have made."

So, yes, that was dramatic. But it gets better: UConn will face Syracuse in the semifinals. The last these two teams met in the conference tournament? Six overtimes. Fun starts Friday at 7 p.m.