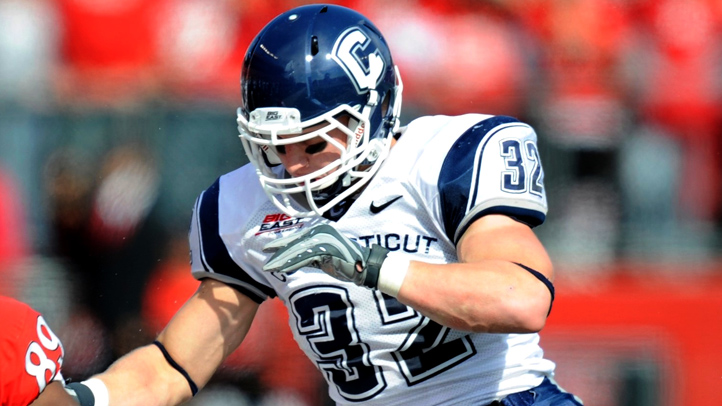 The NFL Draft begins Thursday and it is the most anticipated week of the offseason, even without an end to the labor dispute on the horizon.

The owners, players and the phalanx of attorneys will (hopefully) work out those details in the coming months. For now, the draft serves as a distraction from all that, and it provides something arguably more valuable: hope. Fans of the downtrodden have hope that maybe this is the year it all changes. And it starts with the players.

For a handful of former Huskies, the next few days could mean the difference between prolonging their football careers or having to get a real job like the rest of us. Running back Jordan Todman (third round) will probably be the first UConn player drafted, and after that, guard Zach Hurd (fourth-fifth round). Other names that could be called: LB Greg Lloyd, LB Lawrence Wilson and, if he's lucky, LB Scott Lutrus.

According to NFLDraftScout.com, Lutrus is ranked 23rd among the outside linebacker class, and is projected to be drafted in the seventh round, or signed as an undrafted free agent.

(One problem with the latter: because there currently is no season, none of the 32 NFL teams can sign players to the roster after the draft. In previous offseasons, undrafted free agents were a big part of draft weekend. Primarily because teams could get players that they had on their draft boards but didn't select, and it was also means of stocking the practice squad.)

Unlike most players struggling with the transition from college to the NFL, Lutrus had a little help. A month after the Huskies' season ended against Oklahoma in the Fiesta Bowl, he was in Indianapolis at the NFL Combine. And Donald Brown, the former Huskies running back selected by the Colts in the first round of the 2009 Draft, has been available to offer Lutrus advice.
Details via the Connecticut Post:
Brown … has kept in touch with Lutrus ever since he left for the NFL in 2009. Brown gave Lutrus advice prior to his interview and workout with the Minnesota Vikings -- Lutrus was invited to their "Top 30" camp and was also worked out by the Jacksonville Jaguars and Philadelphia Eagles -- and continues to help him in the weeks leading up to the draft. "We talk often," Lutrus says. "I was actually just on the phone with him on my way to the gym."
Clearly, there is interest. Now the question is who likes him enough to draft him. For the time being, all Lutrus can do is wait. "I've done everything I can up to this point, now I'm just sitting and waiting," Lutrus said, according to the Post. "I'm anxious, excited. You don't know what's going to happen. It's all up in the air."