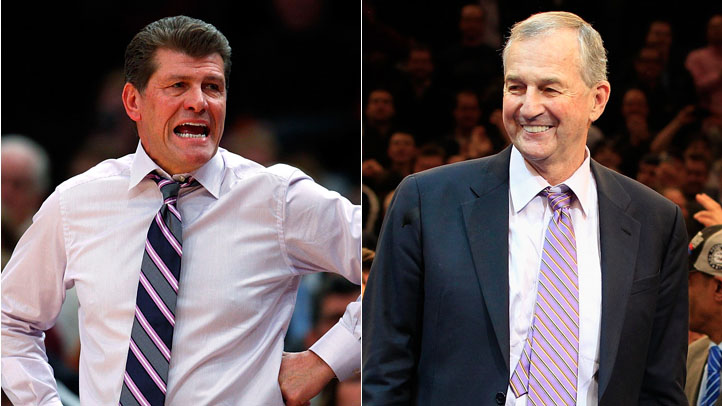 Every year, usually around this time when we're reminded just how lucrative the NCAA Tournament is, we hear arguments for why student-athletes deserve to be paid. It's an ongoing debate with no end in sight. Such restrictions, however, don't apply to the coaches.

For University of Connecticut, that means bonuses for Jim Calhoun and Geno Auriemma. Specifically, both coaches will receive an extra $58,333 for reaching the Final Four and can get a total of $87,499 if the men's or women's team wins the national championship. That's a bargain compared to what Kentucky men's basketball coach will pull down if the Wildcats win it all: $700,000 in bonuses.

More details via the Hartford Courant's Jeff Otterbein:
Calhoun and Auriemma, off a base salary of $350,000 each, receive one month of annual salary for making the NCAA Tournament, one month for making the Final Four and one month for winning it all. Should that happen, the three months of annual salary equals $87,499. …

Each coach makes much more in yearly compensation, which includes speaking and media fees. Calhoun's contract pays him a total of $2.3 million this year. Auriemma's total compensation this year is $1.6 million.
And then there's this, which should mitigate some of the inevitable taxpayer push-back that as state employees, Calhoun and Auriemma make too much money, particularly given the economy (again, via the Courant):
The Final Four, unlike the bowl games, is not a financial fiasco for participating schools. The bowl system creates problems for participating schools. Many schools lose money because the BCS bowls force them to buy thousands of tickets, in the case of the Fiesta Bowl 15,000. UConn had to absorb $2,673,587 in tickets, and the Big East does not have a policy of helping member schools absorb those costs.
Connecticut -- both the university and residents -- are familiar with the story. There are benefits to BCS Bowl appearances, too; increased visibility for the school and the football program, increased enrollment, and better recruits. Plus, the Big East will pay out $3.8 million to UConn later this year -- its cut from bowl and television revenue.

Unlike football, the university's financial obligations are much more manageable for the Final Four. The NCAA requires participating schools to sell out 500 hotel rooms and 3,250 tickets. UConn would have to absorb the difference, but only in unbooked rooms.
"We are doing pretty well there and may actually use all of them," said Mike Enright, associate athletic director for communications, according to the Courant. "We can actually return any unsold tickets and not have to pay for them."

The Big East will also pay member schools for basketball -- just like it does for football. Last year, the figure was $1.25 million (no word on what the amount will be this year), which makes the bonuses paid to Auriemma and Calhoun much more palatable.
It could be worse: UConn's basketball teams could be dreadful.