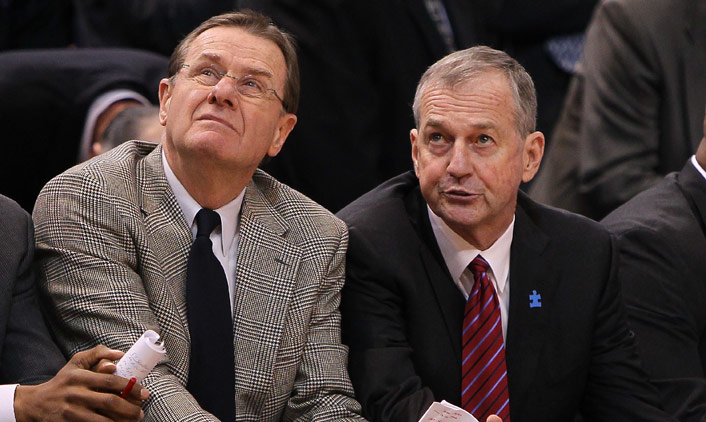 It's the summer, which in recent years has meant uncertainty about Jim Calhoun's future. This time around is no different, although the 70-year-old coach seems more likely to return to the bench than a year ago when the Huskies improbably won their third national title months before.

So with not much else going on, Calhoun remains the story. Earlier this week, he sat down with ESPN's Andy Katz to discuss -- you guessed it -- his professional plans.

Calhoun told Katz that he looks to one of the best coaches in college basketball history when considering his exit strategy: Dean Smith, who retired from North Carolina in 1997.

"Dean Smith waited until the fall because he said you have to wait until everything settles down, wait until everything is behind you," Calhoun said. "That's exactly what I'm doing. It's not a mystery."

It's a mystery in the sense that we don't know anything definitive, but Calhoun has been consistent in his "wait till the fall" strategy of making up his mind. He also echoed to Katz sentiments he has expressed previously: "I expect to be at UConn. I'll have a whistle around my neck or I'll be helping the university and the basketball program. I've never thought about it any other way. Everyone else does. I've been here for 25 seasons and I'd like to make it 26 and go from there."

Athletic director Warde Manuel has also said that he expects Calhoun back. Then the question becomes who will succeed Calhoun when that day finally arrives? Conventional wisdom had Calhoun hand-picking the next coach, possibly someone like former player and current assistant Kevin Ollie. Manuel nixed the notion of a coach-in-waiting this spring.

"There's been talk of it and there continues to be talk about it," Calhoun said. "We have great candidates on the staff, and Kevin is a great candidate. Glen Miller has been a coach for 17 years. Karl Hobbs took George Washington to No. 5 in the country. Kevin is the name people keep talking about, but it's a university decision. Have we discussed it? I would be less than candid if I didn't say we have."

Ultimately, Calhoun is UConn. He's not bigger than the university, but he has everything to do with the program's national stature.

"They want me here at UConn," he said. "If I can't give that kind of passion … . It's not a part-time job. If I'm not a 100 percent full-go, then that's why I would stop coaching. When I get to September or October, I have to know I'm fully committed. There's no turning back."

And for the time being, Calhoun expects to be back.