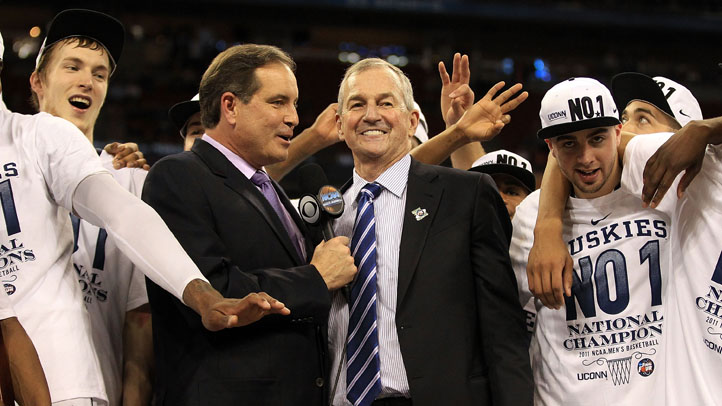 It appears that Kemba Walker has played his last game for the Huskies, but his 68-year-old coach, Jim Calhoun, told ESPN Radio Chicago on Tuesday that he plans to be back for another season.

When asked about coaching the 2010-2011 Calhoun offered this:

"I fully plan on coaching basketball next year. You know, once again, we'll have time in the next couple of months as I settle down, as we kind of look over everything, and I fully expect that I would. … I've always been in love with basketball, I've never fallen out of love with basketball, but this team reaffirms me that kind of what we're doing is worthwhile because the kind of kids you have."

It wasn't long ago that there were rumblings that Calhoun should retire. After a talented Huskies team missed the NCAA Tournament in 2010, some people wondered if the coach had stayed one year too long. And then, midway through this season, the university was punished for NCAA recruiting violations, only adding fuel to the argument that Calhoun had outstayed his welcome and the game -- from recruiting top-notch players to motivating his team -- had passed him by.

But Calhoun relishes the role of the underdog, the guy everybody bets against. It was the chance to prove the doubters wrong, along with the support of his young team, that propelled the Huskies to its third -- and most improbable -- championship title, all under Calhoun.

"Every day these (players) made him feel better," longtime assistant coach George Blaney said, according to ESPN. "He enjoyed this team more than any team he's ever coached."

Calhoun agreed. "The gift of trust, the gift of faith they had in me, their inability to ever give in, that's what I got into 40-some years ago when I became a high school teacher and coach. I couldn't ask for a better gift. It reaffirms everything I believe I've done in my profession."

Hearing that, it's easy to understand why Calhoun is coming back. Coaching and teaching is all he knows, it's what makes him happiest. Even in the face of adversity, it sounds like there's no other place he'd rather be. In that sense, it's hard to begrudge the man for doing what he loves.